A/D Conversion
Analog to Digital Conversion allows you to read voltage levels from 0-5 volts using 8-bit or 10-bit resolution. This is particularly useful for reading temperature sensors (one temperature sensor is built into select boards mostly 4 & 8 channel, shared with analog input number 8). A/D Inputs are also useful for reading light level sensors, thermocouples, switch closures, or just about any other kind of sensor you can think of.


Web-i A/D Page
There is a page already created in the Web-i module for reading analog inputs. The page will display a meter for each input and also display the sensor's numerical value. Each of the eight inputs can be custom labeled through the configuration page so there is no HTML knowlage needed.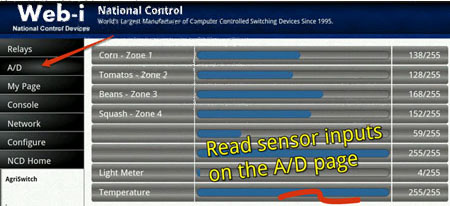 Web-i A/D Page will display all sensors in easy to read meters and also give you the numerical values. Add custom names to each input in the A/D Configuration page.
Sensors Available
Visit our Sensor Page for simple sensors that have been tested and work with all Web-i Boards as well.