Lantronix XPort Pro Web-i Module
Web-i_Module
$149.00
---
Lantronix XPort Pro
The Lantronix XPort Pro Module has custom firmware built-in that will allow you to access built-in web pages. Those pages will allow you to send commands to the board such as simple on/off commands or complex timing commands. The Web-i communications module also adds an Ethernet interface to the board and will connect to a your router with a standard CAT-5 cable. This module replaces any ProXR or ProXR Lite board's module even if you have a different module installed.


Lantronix XPort Pro Web-i Module
Web-i_Module
$149.00
Lantronix Xport at a Glance
Plugs Directly into Router
Network Communication Options:
- Direct TCP/IP Communications
- Supports DHCP
- Supports Fixed IP Address
- Temperature Rating -40° C to 85° C
Built-In Working Web Pages
- Page for Turning Relays On/Off
- Page with Meters for Reading Sensors
- Page for Creating Macros
- Page for Configuration & Setting Passwords
Compatible with
- ProXR & ProXR Lite Boards
- Taralist Boards
- Reactor Boards
- Fusion Boards
Web Relay Modules
The Module has custom firmware built-in that will allow you to access the built-in web pages. Those pages will allow you to send commands to the board such as simple on/off commands or complex timing commands. The Web-i communications module also adds an Ethernet interface to the board and will connect to a your router with a standard CAT-5 cable (a Wi-Fi adapter is available - see below). The Web-i module will be powered by the board which will require 12 volts of power that can be hard wired or you can purchase a "wall wart" type
Power Supply
at checkout. For more information on Web-i interface see
Web-i Interface
.
Lantronix XPort Pro Datasheet
Built-In Working Web Pages
The Web-i Module has built-in working web pages that will let you control the relays and read analog inputs. You can also set passwords, create macros and send ProXR Commands all through pages that are already there! These are working pages that are ready to go as soon as you establish communication to the board but it doesn't stop there. Using a simple ftp program and HTLM editor you can download and modify the pages to fit your needs or company look including adding your logo and company information.
LAN or Internet Control
Control relays from your local internet only when you are connected to your local area network or control from the internet from anywhere outside your network. Once your router is properly configured for port forwarding, users may access the web pages built into the Web-i interface from anywhere in the world just like it were a normal web site. Simply use the Web-i web pages to monitor and control your electronics or customize the pages for your own needs.
Connectivity of Web Relays
Control these relays using the preferred web browser of your smart phone, tablet or computer. There are two main variations on communicating with the relays, Local Control and Global Control.
Local Control
Local control is the easiest way to gain access to your Web Relays. Local Control means your mobile and the Web-i relay controller are both connected on the same network in a local area. For instance, you are at work and your phone and Web-i device are connected to your office network using the same office router (which support Wi-Fi for your phone and Ethernet for the Web Relay controller).
Simply enter the IP address of the Web-i device into the URL bar of your favorite browser. You will have instant access to the web pages built in to the Web-i controller. When connected in this way, you will only have access to the relay controllers as long as your computer or mobile device is in range of your local area network. Users outside the network will not be given access to the controller. Global Control gets around this limitation.
Global Control
Global control means you can control a Web-i enabled relay controller from anywhere in the world. This means your any device with a browser can access this board anywhere internet access is available. Before you can communicate to a Web-i device globally, port forwarding must be configured on your router.
Port Forwarding
When using this board over the internet and outside the Local Area Network, Port Forwarding will be required. Port Forwarding is a protocol used by your router to allow incoming requests for connections to get through to a specific device on a specific port. Below is an example of how it works. In this example a router has been setup to forward incoming requests for port 2101 to the device at the IP Address 192.168.2.19 on port 2101. Now when any device that tries to access this Port on the External IP Address the router will see the request and automatically forward the request to the device at the IP Address of 192.168.2.19 on port 2101. If this Port Forwarding rule was not in place and a request came in on port 2101 the router would not know which port or device to forward it to and the request for connection would be denied. Note: Port Forwarding will not be necessary when using this within a Local Area Network. For more on Port Forwarding with detailed instructions for every router visit:
https://portforward.com/
.

Smart Phone Control
Once the Web-i web page appears on your smart phone, bookmark the page so you can access your relays just like an App on your home screen of your smart phone. Using this method, you can be anywhere in the world and still monitor and control relays as long as your mobile device has an internet connection. It even works using 3G and 4G internet services, so you can be in your car and stay in control of your relays.
Web Relay Videos
---
Built-In Web Pages
All Web-i boards have built-in web pages that can be accessed through any browser. These pages are not on any internet site they are located in the Ethernet module installed on the board. When you access the IP address of the board with any browser you will see these pages. Below are screen shots of the working pages. Using an FTP program the pages can be transferred from the module to your favorite html editor and modified, your logo or your customer's logo for example and more.
Relay Control Page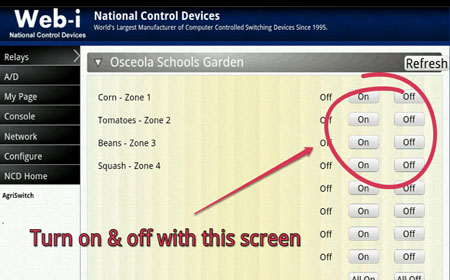 This page has buttons for turning relays on and off and also gives you a status of the relay. The descriptions can be easily changed to identify what you are controlling.
Sensor Page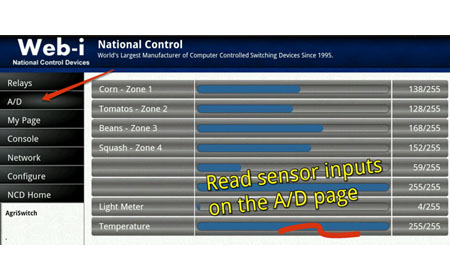 This board is equipped with eight analog to digital sensor inputs that can read a voltage between 0 and 5 volts. The board converts the voltage to a numerical value between 0 and 255. This page displays the numerical value as well as a graph.
Custom Control Page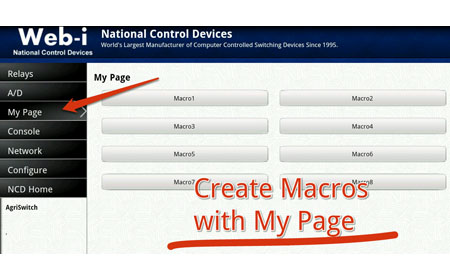 Custom control with My Page! My Page allows you to create custom buttons and use the full power of the ProXR Command Set. Momentary, toggle and delay commands can be easily configured so one push of the button produces your desired action!
Configuration Page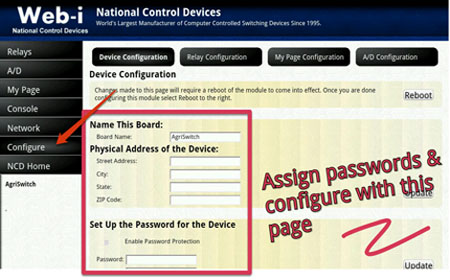 When security is a concern you can set a password to access the pages through the configuration page. You can also create a name for the board and enter the physical address of the board, handy for users with more than one board.
Network Page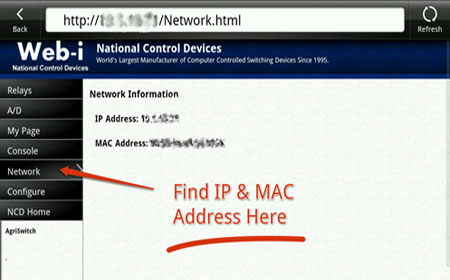 The Network Page contains the IP address of the board as well as the MAC address of the Ethernet module.
Console Page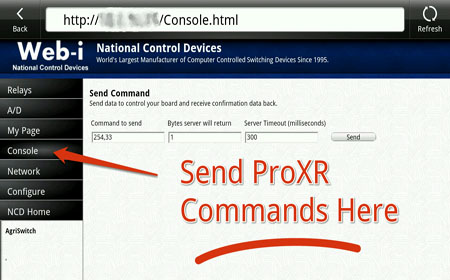 The Console Page allows users to send ProXR Commands directly to the board. Great feature for bench testing and getting the commands correct for the custom page.
Data Sheet
Below is the Data Sheet and Quick Start Guide for the Lantronix Pro Ethernet Module.
Web-i Quick Start Guide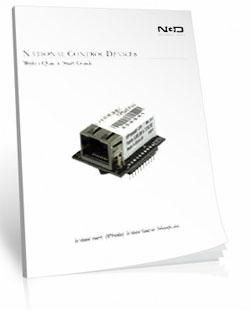 Click to Download
XPort Pro Data Sheet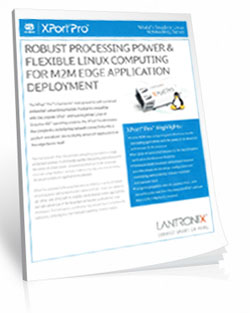 Click to Download