ZADSRR32-5SPSTPROXR_XSC XSC Long Range Relay
XSC Long Range Wireless Reed Relay Controller 32-Channel .5A SPST + 8-Channel 8/10-Bit A/D
Resources
Product Resources:
Software Development Tools:
NCD Component Library
The NCD Component Library is a Plug-In for Visual Studio 2005/2008 that greatly reduces software development time, effectively reducing most control operations to a single line of code. This free download includes many example applications covering a wide range of topics.

Wiring Diagrams:


Wiring Diagrams: several simple ways to wire a relay for various applications.
Wireless USB Interface Mounts as a Virtual COM Port on your PC for Easy Programming and 100% Compatibility Across ALL Operating Systems
Plug In, Open the COM Port and Start Sending Commands
Expandable to control up to 256 Relays using the XR Expansion Port
16 Background Timers Can be Assigned to Any of the Relays while Processing Your Commands
Server Reboot, Watchdog, & Keep Alive Duration/Pulse Timing Command Set
Control One Relay at a Time or All 256 Relays at Once with Manual and Automatic Refreshing Command Set
CPU Status LEDs Show Command Processing Activity
This Product:
Related Products:
QUANTITY DISCOUNTS UP TO 100 PIECES ARE BUILT INTO OUR SHOPPING CART. CHANGE YOUR ORDER QUANTITY TO SEE QUANTITY PRICING.
Ozarks Audio Visual
www.relaypros.com
800-960-4287
XSC Long Range Wireless Controller with A/D
Take all the Power of the ProXR Series Relay Controllers
...add a Digi XSC Long Range Wireless Interface
Long Range Wireless Control is Effortless!
2-Mile Wireless Relay
XSC is not one of the most widely known wireless technologies but it is easy to setup and capable of transmitting up to 2-miles very reliably. An XSC modem plugs into your USB port of your computer (available at checkout) and will transmit to the XSC relay with a standard range of 2-mile and up to 15 miles. We have tested the 2-mile range and it's very reliable, anything over this will require a rooftop antenna to extend the range to 15 miles (untested). You can choose module installed in the modem and board at checkout.
XSC Wireless Modules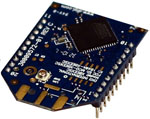 This board is equipped with an XSC Module. The XSC communications module adds long range wireless communications to the board. The module is powered from the board. The board itself will require 12 volts of power and can be hard wired or you can purchase a "wall wart" type
Power Supply
at checkout.
Line-Of-Site Operation
As with any wireless technologies, for optimal performance it needs to be line-of-sight. In other words the antennas of the board and

modem must "see" each other to get the optimal range or even be able to communicate at all. Mounting slots on the modem make it easy to attach to a wall to allow for line-of-site operation.
Standard Range Antenna
The XSC900SR Standard Range Antenna (distance of 2 miles) is included with the price of the controller. The antenna has a short pig tail that connects to a button on the XSC module.
XSC Antenna Options
Long Range Antenna
An outside antenna will need to be installed in order to reach the 15 mile limit of these devices. When you choose this optional antenna we will include everything you will need to install this except for the pole. Included will be the Cushcraft PC9013 antenna, 20 feet of cable (longer cables are not recommended) and the connector to connect the board to the cable. Purchase a pole to mount the antenna from your local home improvement store and install the antenna. Connect the board to the antenna via the provided cable and start sending commands.
XSC Wireless Modem
Plug the UXSCMSR_ZIGMO standard range modem (2-miles) or UXSCMLR_ZIGMO long range modem into the USB Port of your computer. The modem will mount as a COM port on your PC. Open the COM port and start sending data to the modem. The modem will forward your data to all Wireless XSC compliant devices within range (it is also possible to speak to a specific device when other controllers are in range). Look for the modem option at checkout.
XSC Modem
Sending Commands
Base Station Software is available at no charge to get you up and running fast (more on Base Station below). Once powered up, the controller waits for a ProXR command. A command consists of a few bytes of data in numerical format (
see full command set
) usually between 2 and 6 bytes. Once the command has been received, the controller processes the command, and sends you back ASCII character code 85 to signal the completion of your command. If a command was sent to read the status of the relay, the status is sent back.
Induction Suppression
Add years to the lifespan of the relay by adding an Induction Capacitor to the line. Perhaps the most overlooked aspect of relay control is proper handling of inductive loads. Inductive loads can best be defined as anything with a magnetic coil, such as a motor, solenoid, or a transformer. Controlling a inductive load using this relay controller requires the use of induction suppression capacitors. The purpose of this capacitor is to absorb the high voltages generated by inductive loads, blocking them from the contacts of the relay. Without this capacitor, the lifespan of the relay will be greatly reduced. Induction can be so severe that it electrically interferes with the microprocessor logic of our controllers, causing relay banks to shut themselves down unexpectedly. In the case of Ethernet devices, customers may experience loss of communications until the device is reconnected. Capacitors that we offer are available at checkout, for more information view our
Induction Suppression Video
.
About ProXR
All our XSC Long Range Wireless controllers are part of the ProXR series controllers. If you have developed software that works with one ProXR controller, than it will be possible to use this same software to control ANY ProXR controller without modification. There are no new protocols to learn, no new issues to resolve. Just simple compatibility, just like every other ProXR controller before it, just like every other ProXR controller after it.
With all the control and backward/forward compatibility you have come to expect from the ProXR series command set, this controller allows you to send simple commands to activate relays, read the status of relays, activate up to 16 relay timers, and control up to 256 total relays using the XR expansion port. All relays are electronically latched, simply send a command to turn the relay on, send a different command to turn the relay off.
Read More About the ProXR Standard
Analog to Digital Conversion
Analog Inputs are very special in that they are sensitive to voltage changes. Analog to Digital (A/D) conversion is the process of converting a voltage in the range of 0 to 5VDC into a number that can be processed by custom software that you develop. The
ProXR Command Set
will allow you to send a command to the board and read voltage levels from 0-5 volts using 8-bit resolution. 8-Bit resolution will read the voltage input (from 0 to 5VDC) and then is interpreted as a value from 0 to 255. Zero being a contact closure input.
For Example
A voltage input of 0 Volts is interpreted as a value of 0
A voltage input of 2.5 Volts is interpreted as a value of 127
A voltage input of 5 Volts is interpreted as a value of 255
So if you divide 5 Volts by 255 possible steps (0-255 for 8-Bit resolution), the board is sensitive to voltage changes as small as 0.019 Volts. This controller has eight A/D inputs, each input is capable of reading a separate voltage from 0 to 5 VDC, provided all voltages can share a common ground. This is particularly useful for reading temperature sensors (one temperature sensor is built into select boards mostly 4 & 8 channel, shared with analog input number 8). A/D Inputs are also useful for reading light level sensors, thermocouples, switch closures, or just about any other kind of sensor you can think of.
A/D Sample Programs Available
Eight Different A/D Sample programs are available in the
Component Library
. These samples are available as a free download and are compatible with Visual Studio.
XSC Long Range Wireless Reed Relay Controller 32-Channel .5A SPST + 8-Channel 8/10-Bit A/D
ZADSRR32-5SPSTPROXR_XSC
$730.00
---
XSC Long Range Wireless Reed Relay Controller 32-Channel .5A SPST + 8-Channel 8/10-Bit A/D
XSC Long Range Wireless Reed Relay Controller 32-Channel .5A SPST + 8-Channel 8/10-Bit A/D
ZADSRR32-5SPSTPROXR_XSC
$730.00