Take Manual Control of Reactor
Manual control and reading sendors couldn't be easier than with the Web-i Reactor board. If you will need to read or overide your automatic setting this is the board for you! With the addition of a Web-i Module you can take manual control of your Relays or check the status of your Inputs from anywhere and on any device using a simple Web Browser. All this without any need for Programming.


Control with Internet Connection & Browser
Control this Web Relay from anywhere you can get an internet connection and on any device with a web browser. The Web-i interface built into this controller plugs in to a router on your network. This tiny controller has built-in web pages, which give you access to the relays on the board. These are working web pages that are ready to use or you can edit them with your favorite HTML editor.


Connectivity Options
Web-i controllers can be accessed remotely through an Internet connection using any device with an embedded web browser such as a smartphone, tablet, or computer. The Module has firmware built-in that will allow you to access the web pages and that will send commands to the board.


Web Relay Modules
This board is equipped with a Web-i Module. The Module has custom firmware built-in that will allow you to access the built-in web pages. Those pages will allow you to send commands to the board such as simple on/off commands or complex timing commands. The Web-i communications module also adds an Ethernet interface to the board and will connect to a your router with a standard CAT-5 cable (a Wi-Fi adapter is available - see below). The Web-i module will be powered by the board which will require 12 volts of power that can be hard wired or you can purchase a "wall wart" type Power Supply at checkout. For more information see Web-i Interface.


Built-In Working Web Pages
The Web-i Module has built-in working web pages that will let you control the relays and read analog inputs. You can also set passwords, create macros and send ProXR Commands all through pages that are already there! These are working pages that are ready to go as soon as you establish communication to the board but it doesn't stop there. Using a simple ftp program and HTLM editor you can download and modify the pages to fit your needs or company look including adding your logo and company information.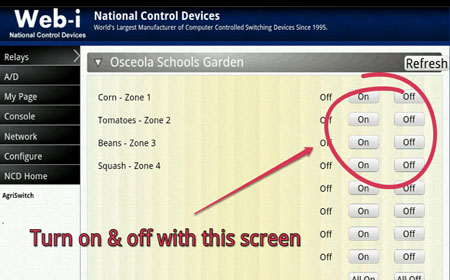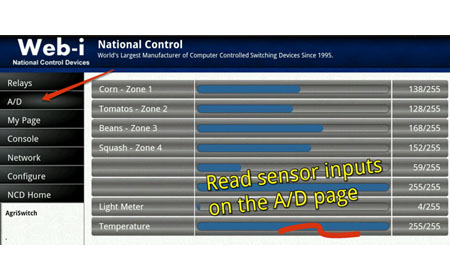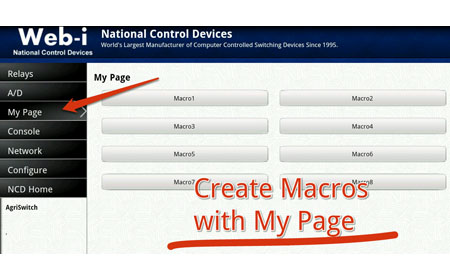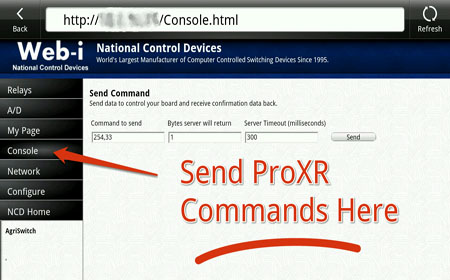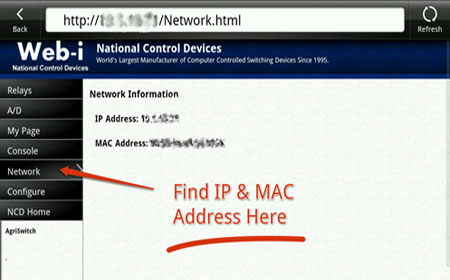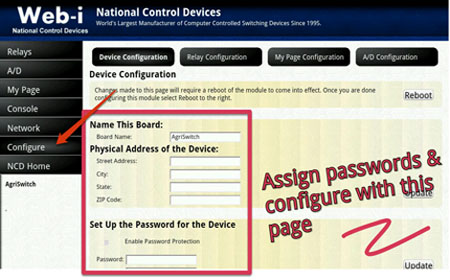 LAN or Internet Control
Control relays from your local internet only when you are connected to your local area network or control from the internet from anywhere outside your network. Once your router is properly configured for port forwarding, users may access the web pages built into the Web-i interface from anywhere in the world just like it were a normal web site. Simply use the Web-i web pages to monitor and control your electronics or customize the pages for your own needs.


Connectivity of Web Relays
Control these relays using the preferred web browser of your smart phone, tablet or computer. There are two main variations on communicating with the relays, Local Control and Global Control.


Local Control
Local control is the easiest way to gain access to your Web Relays. Local Control means your mobile and the Web-i relay controller are both connected on the same network in a local area. For instance, you are at work and your phone and Web-i device are connected to your office network using the same office router (which support Wi-Fi for your phone and Ethernet for the Web Relay controller).

Simply enter the IP address of the Web-i device into the URL bar of your favorite browser. You will have instant access to the web pages built in to the Web-i controller. When connected in this way, you will only have access to the relay controllers as long as your computer or mobile device is in range of your local area network. Users outside the network will not be given access to the controller. Global Control gets around this limitation.


Global Control
Global control means you can control a Web-i enabled relay controller from anywhere in the world. This means your Android can access this device anywhere internet access is available. Before you can communicate to a Web-i device globally, your router MUST be configured to forward port 2101 (complete instructions on how to forward port 2101, please visit www.PortForward.com). Once port forwarding is configured, you may access a Web-i device globally (no static IP address required).


Smart Phone Control
Once the Web-i web page appears on your smart phone, bookmark the page so you can access your relays just like an App on your home screen. Using this method, you can be anywhere in the world and still monitor and control relays as long as your mobile device has an internet connection. It even works using 3G and 4G internet services, so you can be in your car and stay in control of your relays.


Wi-Fi Adapter Available
Make these Web-i controllers Wi-Fi compatible by simply connecting the Netgear WNCE2001 Universal Wireless Internet Adapter. The WNCE2001 will connect any of these Web Relay devices to an existing 802.11 wireless network. Installation couldn't be easier with Netgear's CD-less, wireless installation. The Netgear WNCE2001 can be purchased on your own or select the Wi-Fi option at checkout to add to your order.


Monitoring Inputs
Once a Reactor is configured, the Reactor monitors inputs. When inputs reach user-defined limits, relays can turn on or off. Reactors allow much more than simple relay control. Reactor inputs can trigger timers and rotations. A timer allows a relay to activate over a duration of time. A rotation is a simple counter, in which relays can be assigned to each "count". This allows powerful functions such as relay activation sequencing, flashing, and stepping. Event Piping allows timers and rotations to trigger other timers and rotations. This is very powerful for setting up complex relay activation sequences.


8 Inputs Available
Reactor Inputs play a vital role in the use of a Reactor controller. Analog inputs are simply inputs that are sensitive to voltages. Analog Inputs are capable of reading switches and sensors operating in the 0 to 5VDC range. Once configured, the Reactor CPU is constantly monitoring external sensors using 8 analog inputs that can read switches, resistance changes, or voltages from 0 to 5VDC. Inputs can be configured to trigger relays, relay timers and relay activation sequences.


Input Voltage Changes
Analog Inputs are very special in that they are sensitive to voltage changes. In the case of a Reactor controller, analog inputs have an 8-bit resolution, meaning the voltage input (from 0 to 5VDC) is interpreted as a value from 0 to 255.


For Example
A voltage input of 0 Volts is interpreted as a value of 0
A voltage input of 2.5 Volts is interpreted as a value of 128
A voltage input of 5 Volts is interpreted as a value of 255

So if you divide 5 Volts by 256 possible steps (0-255 for 8-Bit resolution), the Reactor controller is sensitive to voltage changes as small as 0.0195 Volts. A Reactor controller has 8 inputs. Each input is capable of reading a separate voltage from 0 to 5 VDC, provided all voltages can share a common ground.


Who's Qualified to Use the Reactor Series?
Some computer skills required. The Reactor Relays do not require programming, simply configure the device with the included Base Station Software. While programming is not required and simple functions can be done rather easily with basic computer skills, complex events can be configured which will require some understanding and patience.


Induction Capacitors
Perhaps the most overlooked aspect of relay control is proper handling of inductive loads. Inductive loads can best be defined as anything with a magnetic coil, such as a motor, solenoid, or a transformer. Controlling a inductive load using this relay controller requires the use of induction suppression capacitors. The purpose of this capacitor is to absorb the high voltages generated by inductive loads, blocking them from the contacts of the relay. Without this capacitor, the lifespan of the relay will be greatly reduced. Induction can be so severe that it electrically interferes with the microprocessor logic of our controllers, causing relay banks to shut themselves down unexpectedly. In the case of USB devices, customers may experience loss of communications until the device is reconnected to the USB port. Capacitors that we offer are available at checkout, for more information view our Induction Suppression Video.