Expansion Board 24-Channel 5-Amp
XR245
$350.00
---
XR Expansion Board
The XR245 Expansion adds four 5-amp relays to a ProXR Board. Expansion boards connects to the ProXR Board using a supplied 6" ribbon cable plugged into the XR Expansion Port. This expansion board is compatible with any ProXR board.


Expansion Board 24-Channel 5-Amp
XR245
$350.00
Expansion at a Glance
4 5-Amp Relays Installed
- Single Pole Double Throw (SPDT) Relay
- Highly reliable Under Almost any Conditions
- Temperature Rating -40° C to 85° C
Compatible Boards
- Any ProXR Board
- Any Taralist Board
- Will Not Operate Independently
- Not Compatible with ProXR Lite Boards
Onboard XR Expansion Ports
- Plugs Into ProXR Board or Other Expansion Boards
- Daisy Chain Expansion Boards Together
- Control up to 256 Total Relays
- 6" Ribbon Cable Included
Add Relays as Your Needs Grow
The expansion board is compatible with the ProXR and Taralist Time Activated Relay boards. The ProXR and Taralist boards are fitted with an XR Expansion Port where you can add expansion boards. Expansion boards can be added until you reach 256 total relays. As you continue to chain expansion boards onto an XR expansion port, the total number of available relay banks will increase. Add expansion boards as needed in the future, whenever you require more relays simply order another expansion board.
Will Not Operate Independently
This Expansion Board gets it's commands from the main ProXR or Taralist board and will not operate independently. This board MUST be plugged into a ProXR or Taralist board to operate and will not function on it's own.
Mix & Match
Expansion boards do not need to be the same relay amperage as the main board or other expansion boards. Mix &anp; match expansion board to get the exact amperage for your switching needs.
Power Requirements
This and all expansion boards require 12 VDC to operate. We offer a wall-wart type power supply at checkout if you need to plug this into a 110 wall outlet.
SPDT Relay Installed
This device has SPDT relays installed. SPDT Single Pole Double Throw Relays have three connections - Common, Normally Open, and Normally Closed. When the relay is off, the common is connected to the normally closed connection of the relay. When the relay coil is energized, the Common swings over to the Normally Open Connection of the Relay. You can wire the device you are switching to either the Normally Open or the Normally Closed position.
2-Million Cycles
ProXR series controllers are designed for long life, you should expect to get years of service from your controller and literally 2-million cycles from the relays on board. With a 5-year warranty and a money back guarantee you have nothing to loose! Place your order now, while everything is in front of you.
RoHS Compliant
This board is led free and RoHS Compliant. If your requirements are for RoHS compliant parts this board is manufactured with RoHS compliant led free parts and solder.
5-Year Warranty/Money Back Guarantee
ProXR Lite series controllers are guaranteed against manufacturing and functionality defects for a full 5 years! Not to mention a 30-day money back guarantee! If for any reason you are not happy with a relay purchased from Relay Pros, simply return it within 30 days and we will give you your money back! Controllers that are damaged by our customers will not of course be warranted under any circumstances.
Shipping
The boards sold are brand new units shipped from our office conveniently located in Missouri. These boards are completely tested before they are released for shipping With so many boards on our site it is impossible to stock boards, please allow two to three days production time for your order to ship. If you have any questions please feel free to call our office at 800-960-4287 or e-mail us at sales@relaypros.com.
Relay Expansion Videos
---
Power Supply Available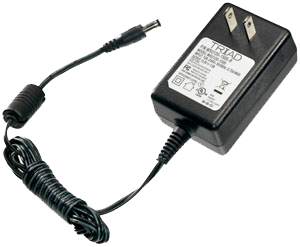 Reliable Power Means
Reliable Switching
The PWR12 is regulated power supply providing clean power necessary for the performance of these boards. The PWR12 US power supply is a 120VAC to 12VDC 1.25A 60Hz regulated power supply and it plugs into the barrel connector on the board. The output connector is a 2.1mm I.D. x 5.5mm O.D. x 9.5mm R/A barrel connector.
Induction Suppression
Controlling an inductive load using our relay controllers requires the use of induction suppression capacitors. The purpose of this capacitor is to absorb the high voltages generated by inductive loads, blocking them from the contacts of the relay. Without this capacitor, the lifespan of the relay will be greatly reduced. Induction can be so severe that it electrically interferes with the microprocessor logic of our controllers, causing relay banks to shut themselves down unexpectedly. Learn More about
Induction Suppression
Data Sheets & Quick Start Guides
Below are the Data Sheets Quick Start Guides for this board. These are the guides that will help you communicate and configure this board.
ProXR Quick Start Guide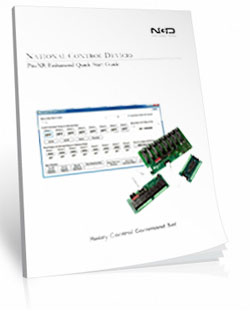 Click to Download
5-Amp Relay Data Sheet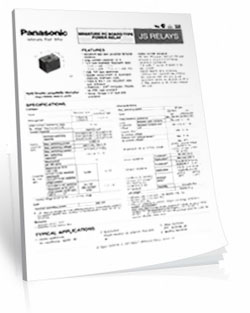 Click to Download
Hardware Reference Guide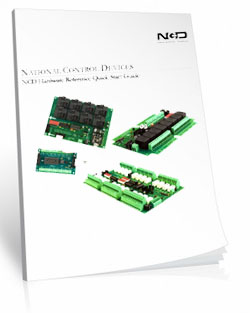 Click to Download