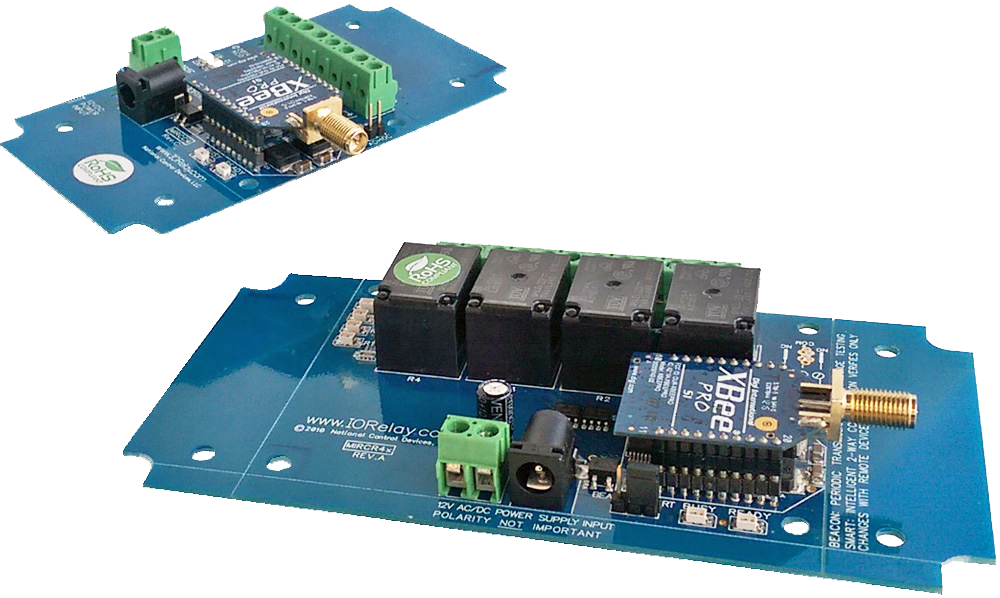 Contact Closure Relay at a Glance...
Dry Contact Inputs ONLY
- No Voltage Inputs
- No Voltage Output
MirC
- Point to Point
MirX
- Point to Point
- Relays on Both Boards
MirM
- Point to Multi-Point
MirW
- Multi-Point to Point
Key Fob Control
- Key Fob Controls Relay
Push Notification
- Send Text and/or Emails
Contact Closure Relay - Control Relays with a Dry Contact
Contact Closure Relay uses a simple dry contact to trigger a relay with a wired, wireless or internet connection without a computer. Control a relay remotely with our popular Mirror Series controllers that have separate boards in separate locations that work together as a married pair to control relays. Control from a contact closure you hold in your hand with a Key Fob board. Reactor Relays can be controlled by a contact closure without the use of a computer.


Selecting a Contact Closure Relay
Contact Closure Relays are available in different varieties for different applications. The Mir or Mirror Series is great for transferring the contact closure over a distance to another location. The Reactor Series will allow a contact closure to start timers and delays. The Key Fob boards can act as a contact closure you hold in your hand to toggle on/off or start timers and delays. The ProXR, ProXR Lite and SCAN Series boards are computer controlled relays where your write a program to monitor the status of the contact closure and trigger relays based on this information.


Other Contact Closure Options
A quick note regarding some of the Contact Closure Relay boards you will find below. The MirC, MirX, MirM and MirW relays do not need a computer and will transmit between the boards with a contact closure triggering the relay and not a computer. The Key Fob Relays are triggered with a key fob wirelessly and do not need a computer except for configuration. The Reactor boards will also need a computer for configuration but not for operation. Scroll down for a full list of all Contact Closure Relays that we offer and click the links for more information on each series.