Contact Closure to Multi-Point Relay at a Glance...
Wireless Operation up to 1 Mile (1.6km)
Contact Closure Triggers Relays in Remote Locations
- Contact Closure Inputs on Sender
- Relays on Receiver
Sold with Multiple Boards
- 1 Contact Closure Board
- 8 Maximum Relays Per location
Contact Closure (No Voltage) Inputs
- One Input can Control All Remote Relays
Contact Closure to Multi-Point Relay
MirM Contact Closure to Multi-Point Relay allows you to control relays in multiple locations from a contact closure (no voltage) input. Inputs on the sender board controls relays on multiple remote boards. The relays will remain energized as long as the contact closure input is closed, when the input opens the relay will turn off. Depending on the contact closure input that you are using you can momentarily keep the relay on or use an toggle switch can trigger relay on then off. The relays provide no voltage and can be used as a dry contact output if needed.
900 MHz Communications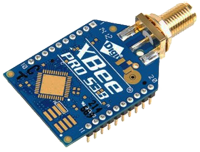 The sender board and each receiver board is equipped with a Wireless 900HP module that adds a wireless interface to the boards. The 900 MHz communications module adds wireless communications between the boards. These boards have a 2-mile (3.2 kilometer) wireless range, line-of-sight.
Selecting a Point to Multi-Point Relay
How many relays do you need?
Below you will find all the Contact Closure to Multi-Point Relays that are available. Each section is broken down by the number of relays installed on the receiver board. Choose how many relays you require at each location and click that link. This will bring you to a page where you will select the amperage of the relays that will be installed in the remote location boards.