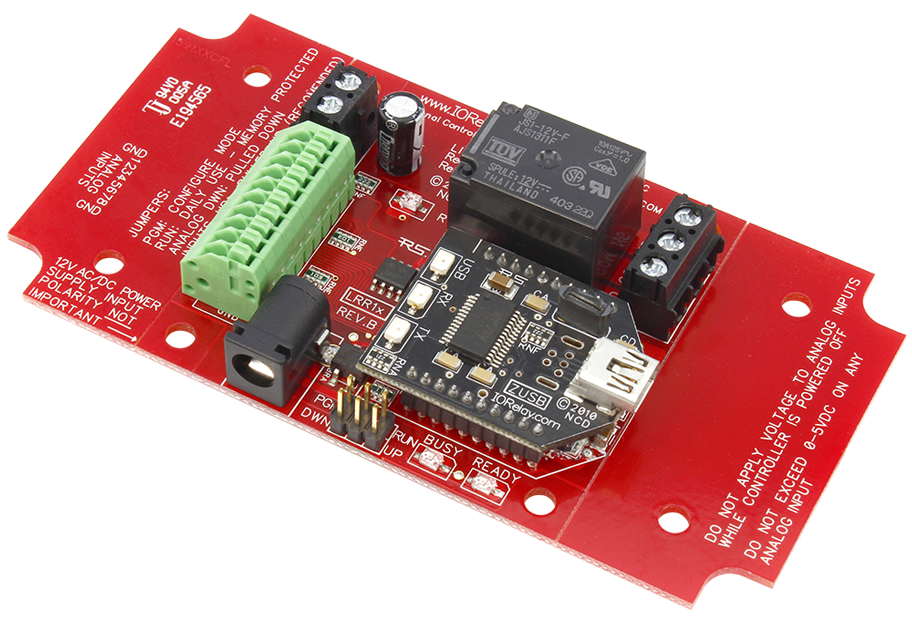 Reactor Relay at a Glance...
Relays Installed on Circuit Board
- Reliable Sturdy Design
Control Relays Based on Sensor Levels
- Accepts 0 to 5 Volt Sensor
- 256 Different Trigger Points
- 8 Background Timers Available
- 4 Rotation Counters Available
- Configure Activation Sequences
Base Station Software
- Point & Click Interface
- Use to Configure Time Schedule
- Free Download
Operates Without a Computer
Once configured the board will operate on it's own and no computer is needed!
Sensors Trigger the Relays
The Reactor Relays are just that...a relay that reacts to a connected sensor or contact closure. Use that sensor or contact closure to trigger the relay or start a time delay so the relay will turn off automatically. Set a trigger point where a relay will trigger above or below that point. Set a range where the relay remains energized as long as the sensor level is in that range. Use a connected sensor or something as simple as a button to start a timer or sequence that you configure. Setup, configuration and manual control is done with the included Base Station Software.
Time Delay and More
Up to 8 timers and 4 rotations can be configured to control up to 8 relays based on 8 separate analog inputs or contact closure inputs. Programmable Trigger Points can Trigger Timers and Rotation Counters when Analog inputs reach pre-configured levels. All done without the use of a computer once the configuration is uploaded to the board.
Selecting a Reactor Relay
How many relays do you need?
Below you will find all the Reactor Relays that are available. Each section is broken down by the number of relays installed on the board. Choose how many relays you require and click that link. This will bring you to a page where you will select a communication interface.