Web Relay at a Glance...
Single Relay or Multiple Relay Boards Available
- ProXR Boards Expandable to 256 Relays
- SPDT, DPDT & SPST Relays Available
No programming required
- Working Web Pages Already Installed
- Modify Pages by FTP
Onboard Ethernet Interface
- Plugs directly into Router
Built-In Working Web Pages
- Page for Turning Relays On/Off
- Page with Meters for Reading Sensors
- Page for Creating Macros
- Page for Configuration & Setting Passwords
Web Relay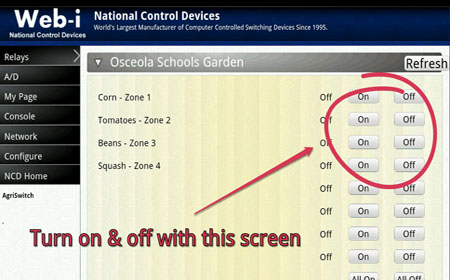 The Web Relay is equipped with firmware built into the board that will allow you to Control relays with a web page. The web relay controllers have a web page built into the module that you can access using any device with a browser.
Control By Web!
The Web Relay is an ideal choice for applications that require you to control relays by the web, and it's extremely easy to work with since the working web pages are already installed in the module. The board connects to your router with a standard CAT-5 cable where the router assigns it an IP address or you can assign a static IP. Simply access the IP address with any device with a browser and you can control relays!
Selecting an Web Relay
How many relays do you need?
Below you will find all the Web Relays available. Each section is broken down by the number of relays installed on the board. Choose how many relays you require and click that link. This will bring you to a page where you will select a board by how many amps you are switching. Ethernet Relays are available with up to 32 relays onboard but they can be expanded up to 256 total relays.