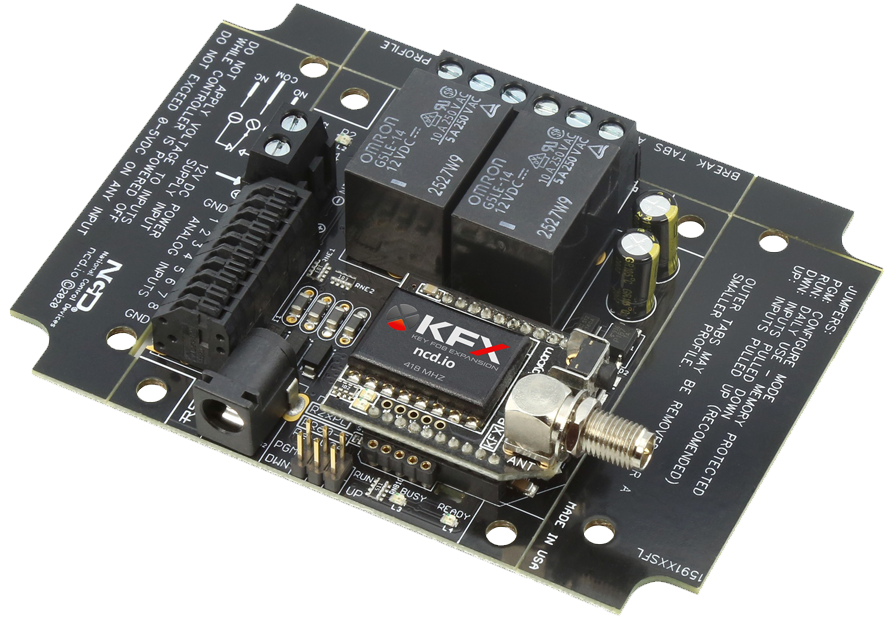 Key Fob Relay at a Glance...
Key Fob Relay
- Distance 750 to 1000 Feet

Pairing Module to Key Fob
- Pair up to 40 Key Fobs Per Board
- Pair Key Fob to Multiple Boards
Many Button Commands Available
- Momentary, Active Only When Pushed
- Toggle, Push On - Push Off
- Add Timer for Auto Shut-Off Function
Single Relay or Multiple Relay Boards Available
- SPDT, DPDT & SPST Relays Available
Key Fob Pairing
Key fobs can be paired to a specific board, if you have multiple boards within range the key fob will only communicate to it's paired board. Key Fobs can also be paired to multiple boards and if they are within range all relays will energize with a button push.
Key Fob Relay
Key Fob relays are the ultimate in wireless relay, allowing you control relays with the touch of a button from a key fob you hold in your hand! You can have up to 8 relays on a board and each relay can be controlled with it's own button on a key fob. Toggle the relay on and off, set press and release commands for momentary action or have a timer where the relay shuts off automatacally. All wirelessly from a small key fob that is easilly carried or stored!
Electronic Key Fob

Use a button to activate a Relay, use another button to deactivate a relay. Use another button to toggle a relay. Use another button as a momentary switch. Key Fob relay boards allow you to configure your Key Fob Buttons to control relays in just about any way you can think of.
Selecting a Key Fob Relay
How many relays do you need?
Below you will find all theKey Fob Relays that are available. Each section is broken down by the number of relays installed on the board. Choose how many relays you require and click that link. This will bring you to a page where you will select a the amperage of the relay installed.