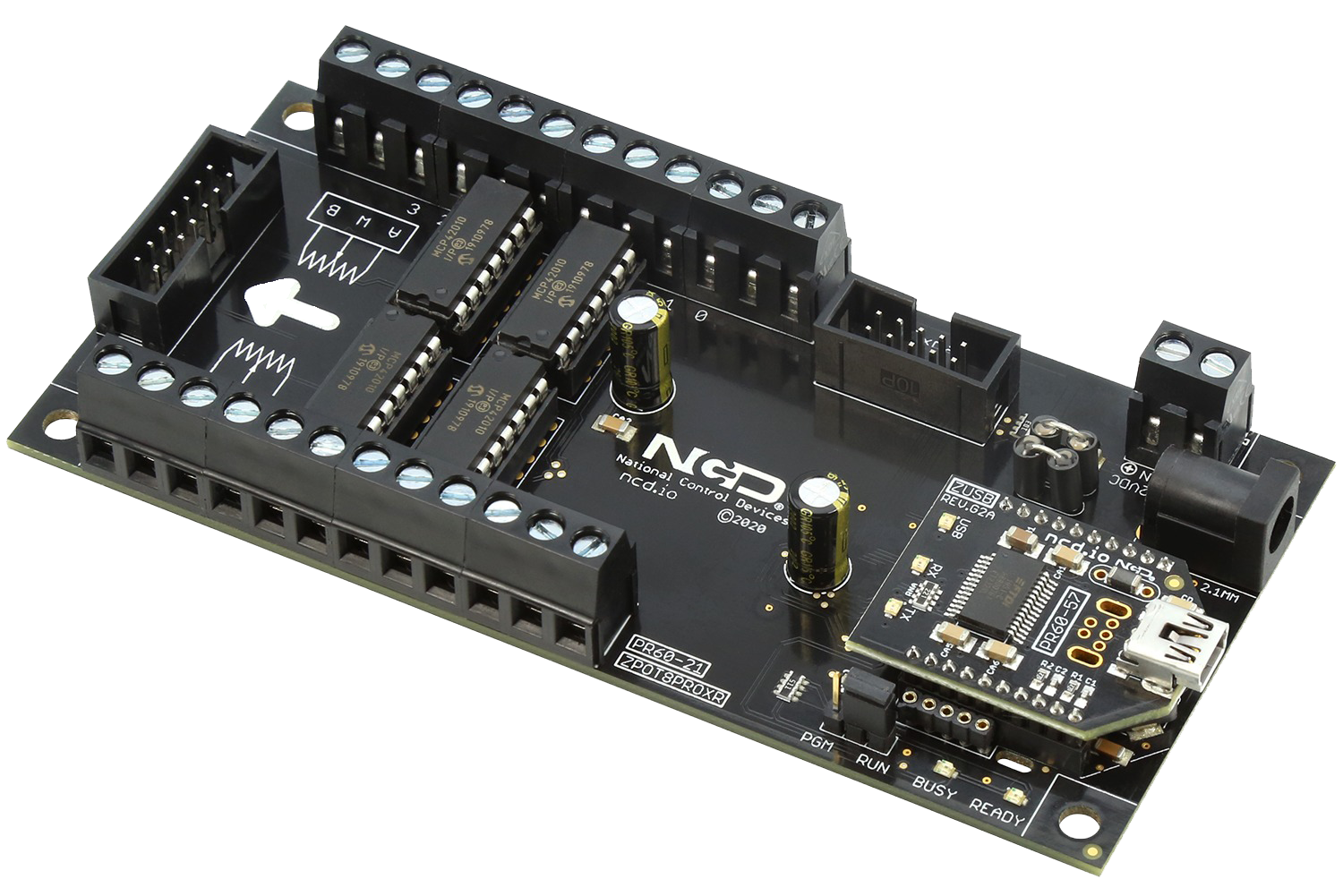 Digital Potentiometers at a Glance...
8-Channel Digital Potentiometer - New for 2020
- 256 Taps Per Potentiometer
- 10K, 50K, and 100K Variants up to 1mA Per Channel
- Expandable up to 256 Using UXP Expansion Port
- Expandable to Control Relays with XR Expansion Port
- Available in 10K, 50K and 100K Resistance
- Temperature Rating -40° C to 85° C
- Expandable to 256 Potentiometers
Updated Features - New for 2020
- More Interface Options
- Improved Power Supply Circuit
- Ferrite Beads Added to Better Separate Noise
- Updated Connectors and Positioning for Better Fit

Programmable Digital Potentiometer - New for 2020
You've been asking for NCD to bring back their Digital Potentiometer and they heard you! Back in production as a Legacy controller, this device will not become obsolete as long as Parts Remain Available! Based on the MCP42xx0 Series Digital Potentiometers, use a computer to change the resistor values on 8 different programmable resistors with up to 256 taps per potentiometer. Available in Potentiometer values of 10 kΩ, 50 kΩ and 100 kΩ with a wiper current of up to 1mA per channel. Set the Power-Up Default State of the first 32 Potentiometers or read the Power-Up Default State of Each Potentiometer. All other Potentiometers default to a center position for all wipers.


More Interfaces Available - New for 2020
The Digital Potentiometer now has a modular communications interface, capable of accepting USB, RS-232, Ethernet, WiFi, Bluetooth, communication modules. Control potentiometers directly from cloud platforms such as Amazon AWS or MQTT when working with our WiFi Bluetooth USB Communications module. Control Potentiometers using a USB Interface and a Virtual COM Port communications when using our USB interface. Control Potentiometers over WiFi or Ethernet by opening a TCP socket to port 2101 and start sending commands (as shown in Base Station).