Relay Control Software
N-Button_Lite
$49.00
---
Control & Real-Time Status
N-Button Lite is software that allows you to configure buttons to control relays and read the status of those relays without programming. You can also create meters for reading variable input sensors connected to the board in real time!


Relay Control Software
N-Button_Lite
$49.00
N-Button Lite at a Glance
Create Desktop Buttons and Widgets
- Supports 16 Widgets
- Button Widgets Control Relays
- Scan Channel Widgets Display Relay Status
- Meter Widgets Show A/D Input Value
Connects to Any ProXR or ProXR Lite Board
- Any Wired, Wireless or Network Interfaces
Scheduling
- Create Time Schedules
- Uses Computer's Clock
- Use Sensor to Turn on and Specific Time to Turn Off
Push Notifications
- Connectes to Push Notification Boards
- Send Text and or Emails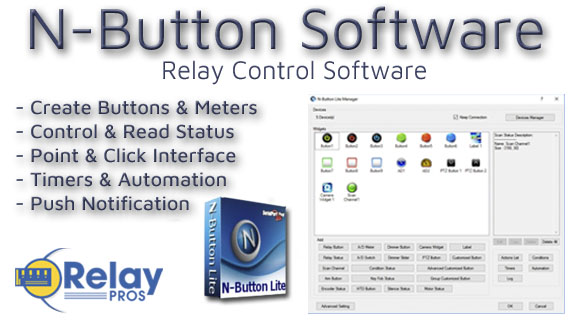 N-Button Lite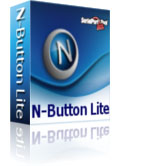 N
-Button Pro/Lite creates widgets that float on your desktop to control external devices, send specified data, run applications, send HTTP requests or send data lists. It supports Serial Port/USB and Network connections between the PC and devices. It allows you to access and control the widgets remotely. Through an internet browser, you can control your devices from anywhere with your computer, iPhone, iPad, Android tablet, Windows tablet as well as Linux and Mac! N-Button Pro/Lite makes it possible to control your devices without any programming with mostly a point-and-click interface! It supports special widgets developed specifically for the boards on the site.
Supports Up To 16 Widgets

N
-Button Lite has all the buttons and widgets of the full version but is limited to 16 widgets. Created for users with smaller needs to save money, N-Button Lite is a powerful tool for controlling relays or reading A/D inputs with up to 16 widgets. If you want to add more than 16 widgets, a Pro version is available
N-Button
.
USB and Network Compatible
N
-Button Lite supports Serial Port/ USB and Network connection between the PC and the relay board. Add any type of included N-Button Lite widgets with N-Button Lite Manager. It's also very easy to modify the widget's properties to get the button and configuration you are looking for. N-Button Lite will control most boards on this site. N-Button Lite is not compatible with Reactor/Key Fob or Taralist relay since these controllers have their own configuration software included with the board or MirC/MirX controllers since these don't require any software or programming at all.
Create Relay Buttons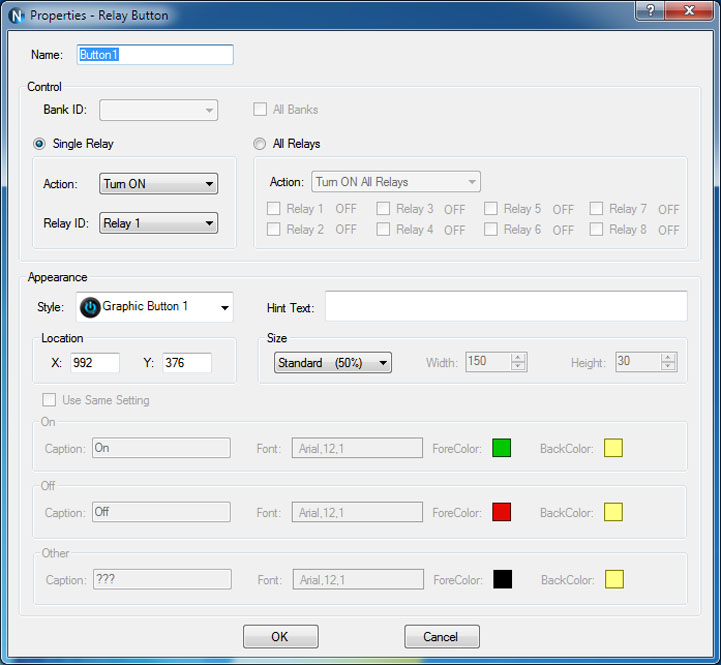 Relay Button Widgets turn on/off relays directly. It has never been easier to control relays, no programming skills required! Create a button that turns a relay on and another one to turn the relay off or create a button that toggles (one click turn relay on another turns it off). It's up to you and easy to configure with a point-and-click interface!
Create Custom Buttons
When you create custom buttons in
N
-Button Lite you can use any of the commands that are in a ProXR Command Set (provided you purchase a ProXR relay) the industry leading command set and it's quite extensive! These buttons will be on your desktop of your computer and when you click on a button it will send the command to the board provided the board is connected to the computer. You can also change the shape, color and text of each button so you will know exactly what each button controls. The color can even change with the status of the relay (on or off)!
Create Relay Status Widgets
Relay Status widgets shows the status of the relay automatically. Just a glance at your desktop will show the status of the relay!
Create Desktop Meters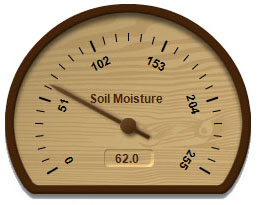 Desktop Meters can be created for real time level readings of any variable input sensor. "It's like having a meter right on your desk for constant monitoring". Meters can be created for temperature sensors, moisture sensors, light meters and others. Read the sensor and create relay buttons that will allow at-a-glance determination of the relay status. Best of all the increments on the meter can be fully customized to fit your needs. Choose an Analog to Digital controller (look for AD in the part number) purchase a copy of
N
-Button Pro or
N
-Button Lite and you can read the A/D levels right on your desktop! If you have an application where you need to track sensor levels you will have a live real time meter right on your desktop!
Backgrounds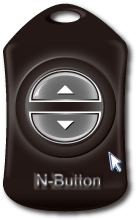 Add some style to your desktop with
N
-Button Pro and
N
-Button Lite you can create backgrounds and holders for your buttons like the virtual Key Fob. Create your own button functions or use one of our pre-installed "V" Fobs ready for download.
Control More Than Just Relay Boards
Customized Button widgets can be set to send specified data to any other connected devices besides relay boards. It can be set to open a file, a folder or a program, run any application or send http request. It also supports send data list. A group of data can be sent to serial port or IP address just by clicking the created button.
N-Button Videos
---
N-Button Software
Please Note: N-Button Software is a PC Based software that needs to be always running on a computer connected to the board to read the input. The software will need access to the internet for the messages to be sent.
Configuring and Sending Messages
N-Button Software
N
-Button Pro/Lite paired with a Push Notification board makes a complete package to send a text and/or email messages.
N
-Button is a point-and-click software that will allow you to configure messages that are sent and who will receive them.
N
-Button is a PC based software that will text and/or email from a computer. The Push Notification board can be connected to the computer either from a USB, Ethernet or the Wi-Fi connection, which ever you choose to use.
Send SMS, Email or Both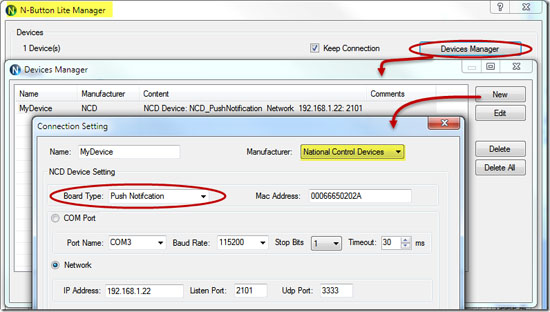 You can send a SMS and/or email message to selected recipients with an alert that the dry contact circuit has been closed. A Subject and message can be sent stating exactly what circuit has been closed. You can even set the message so it continues to be sent at a predirtumined interval until the dry contact circuit opens again!
Monitor Inputs from Desktop
N
-Button also allows you to put a button on the desktop of your PC that changes color with the status of the input! You can assign a color for either state the contact closure. This can also be done in addition or instead of sending a text message. If you don't want to send out a message but want a visual status of the contact closure simply skip the text/email portion of the setup and you will have a visual reference of the output!
Control Relays with Inputs
N
-Button Lite/Pro software Automation feature allows you to control relays with this board!
N
-Button has the ability to set up an Automation rule to match input channels of the push notification board with relay channels on a seperate relay board. The relay status will be changed when the input channel status changes, when the dry contact circuit is closed the relay on another board will turn on and when the circuit opens the relay will turn off.
Components Needed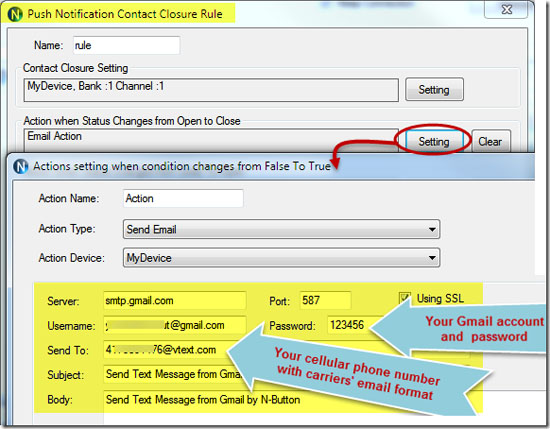 Here's what you will need to set up a contact closure notification
Push Notification Board
N-Button Software
Computer (not provided by Relay Pros)
Contact Closure Sensor (not provided by Relay Pros)
Need More Information?
Detailed step-by-step information for each interface can be found by clicking the links below.
USB Push Notification Setup
Ethernet Push Notification Setup
Wi-Fi Push Notification Setup
Push Notification Videos
---
Control Multiple Boards with N-Button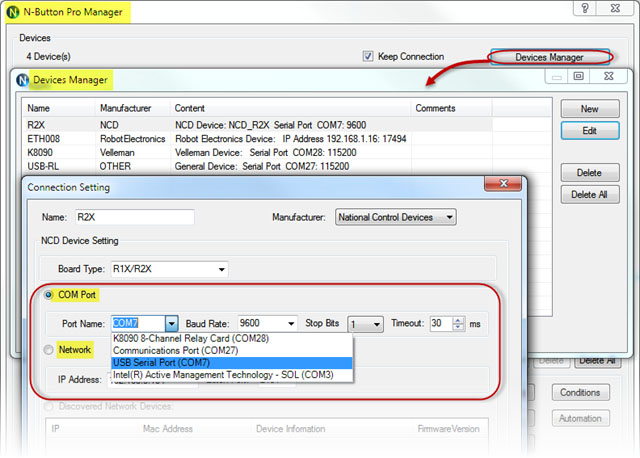 N
-Button Pro/Lite software can control multiple boards, which are connected to the same computer or network. Most of our enquires are for mulitple Wi-Fi boards on the same network and this can be done! N-Button Pro/Lite allows you to enter multiple boards in the Device Manager and control them on one central computer!
Device Manager
Device Manager allows you to enter multiple boards with their IP addresses into the system. Once in Device Manager each individual relay on each board will be able to be independently controlled and you can instantly see the status of those relays. Controlling doors...you can see which is open or unlocked! Controlling irrigation...set a timer! Controlling Lighting...set a darkness paramiter!
Creating Buttons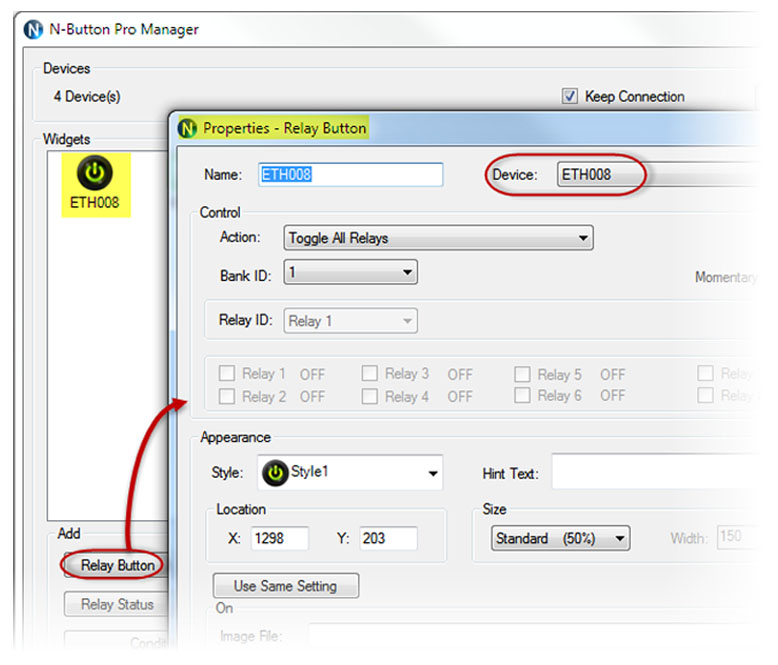 Each button on your desktop can be individually labeled so you know which button controls which relay. Front Door, Back Door, Outside Lights anything you want can be put on the labels!
What Can They Do?
You have the full ProXR Command set at you disposal. The ProXR Command set is the industry leading command set for controlling relays and the list of it's capabilities is extensive!
Please note that you will need to have a ProXR or ProXR Lite board to use this command set.
You can set delays, start a time sequence, turn on with one click and turn off with another! Have an outside door that you're controlling the lock? You can click the button and the relay will only energize for 15 seconds so the door will lock automatically! Put a 2-channel relay board at a location and have a light come on at the same time a door opens with the Toggle All Relays command.
What's the Limit?
While without actually testing a large number of boards on a Wi-Fi network we don;t know of a limit at this time. That's not to say that there is an unlimited number that can be controlled. If you are interested in have a large number of board on a network controlled ny N-Button we reccommend reaching out to the developers of the software to give them your specifications. Modifications may need to be made to the N-Button Pro software as well as your network equipment. Call our office and we can discuss this.
Using A/D Inputs and N-Button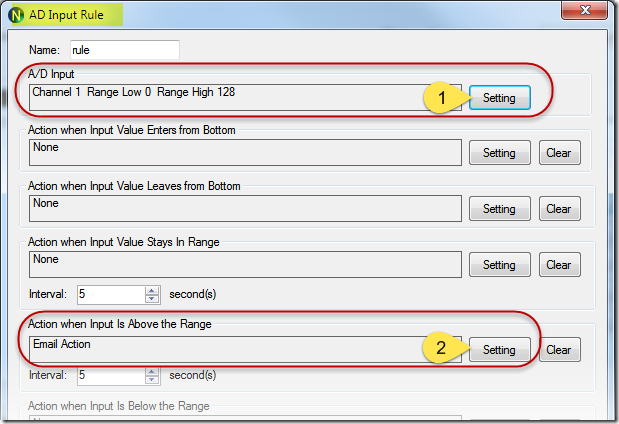 N
-Button Lite/Pro supports Automation A/D input rule, which allows you to control relays automatically according to an A/D input rule. It also supports Send Email action (push notification), which allows you to send Email or text message when the input is at a specific range. With both features, Email/text message could be sent automatically according to A/D input of relay board.
A/D Inputs
All ProXR Lite boards and any ProXR board that begins with ZADR or ZADSR offers an 8-Channel 8/10-Bit Analog to Digital Converter in addition to relay control. The boards are equipped with 8 inputs that can accept an input from 0 to 5 volts. The boards AD8 Command Set is used to read the analog voltages and converts the Voltage from 0 to 5 Volts DC into numeric value between 0 and 255.
Using the Input Information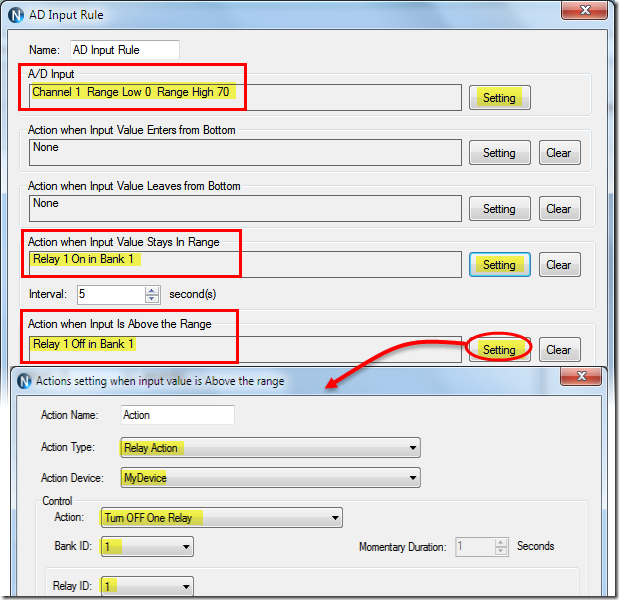 N
-Button Will allow you to use that numeric value to do many fuctions. You can send a push notification is the value goes above or below a specific point. You can use a numeric value to or a range of values to control a relay or a bank of relays. A live meter on your desktop can instantly show the value at any time. For example if the value goes above 125 the relay could energize or you could send out a text message. If you are within a range the relay will will be energized but if the value is above or below the range, the relay will be off.
Action List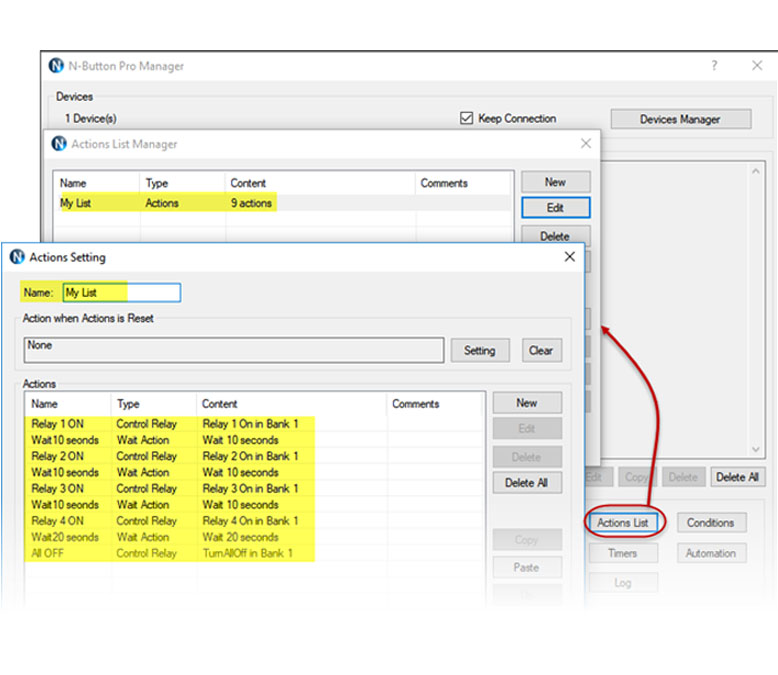 N
-Button Pro/Lite has the ability to create an Action List. The Action List is just as it sounds, a list of actions tha that you would like to have done when a button is pushed. It allows you to add several actions to a list such as truning on a specific relay and turning on another one at a later time. The actions can be executed easily and in order by creating a Customized Button or having a sensor input trigger the action.
Action List Example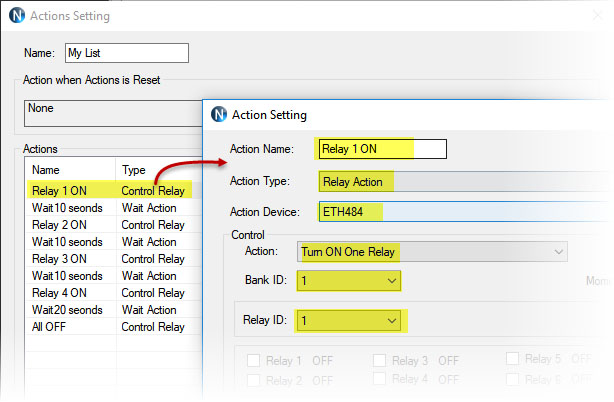 In the Examples on this tab there is a 4-channel board and each relay turns on independently of each other. A button push starts the sequence and relay 1 turns on, 10 seconds later relay 2 turns on then relay 3 and 4 with a 10 second delay between. After relay-4 truns on there is a 20 second delay and all relays turn on at the same time. This sequence can be started by creating a Custom Button or you can set it to start with a sensor of some kind.
Unlimited Applications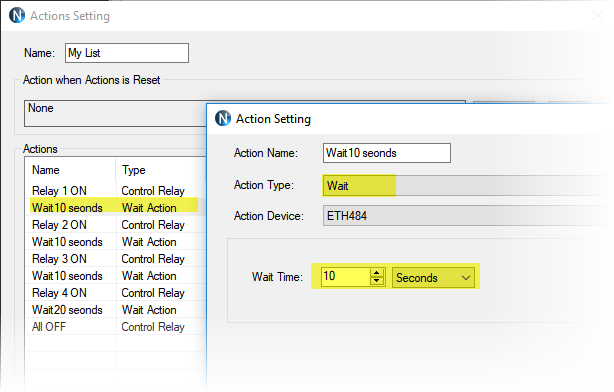 The applications for this are almost unlimited! Turning on relays in a sequence or using an Action List for a time delay with just one or two relays can create an automated way to turn off the relays. Bench testing a product where you need to have relays activated in a sequence is as easy as a button push. A lighting feature in a display that needs to be displayed in a sequence can be done with a button push.
Automation Schedule Rule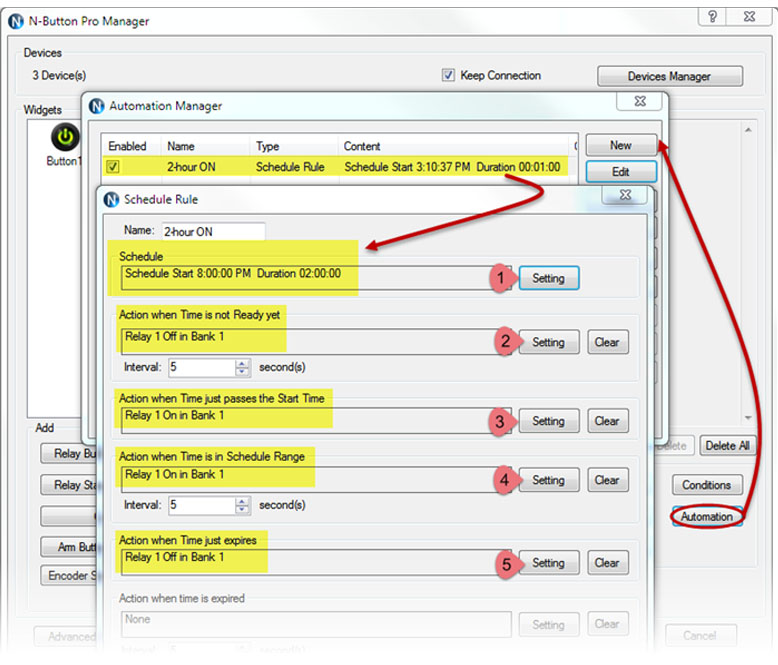 N
-Button Pro/Lite Automation feature allows you to control relays or other devices automatically according to different rules such as time. Scheduling allows you to set a specific time to activate a relay. Scheduling also allows you to to set a duration for the relay to be activated. You can set what you want to happen before, during and after the schedule range.
Schedule Example
If you want to have a particular device activated only for a certain time say while your office is open you can set a time duration where it will turn on automattically at 9:00 AM and run for 8 hours. Outside demonstration equipment for example couldn't be used outside of work hours because there is no power to the unit.

Action List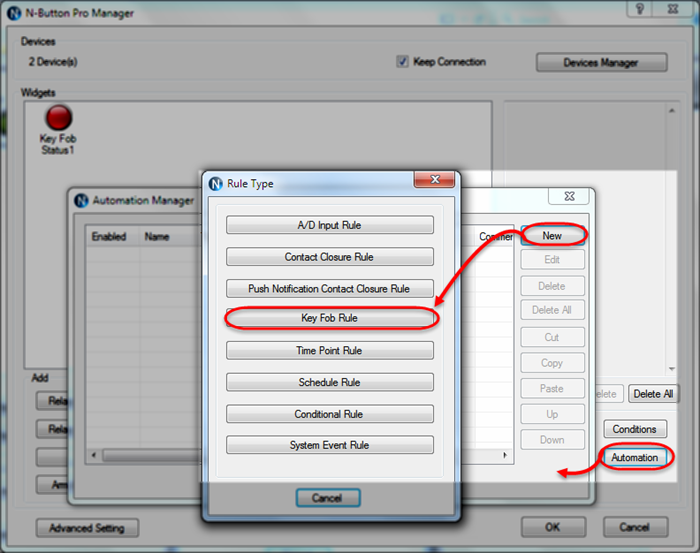 N
-Button Pro/Lite has Automation feature, which allows you to control relays or other devices automatically according to selected rules. One of the rules can be reading a key fob button press and complete an action such as controling a relay, sending data, or an action list you have created!
N-Button Key Fob Support
Each Key Fob should be paired with a KFX Receiver Module (sold seperatly). The KFX Receiver Module must be plugged into the ZIGMO, which acts as an interface between your computer and the KFX Receiver. The Zigmo will moount as a COM port on your PC.
N
-Button will then communicate to the KFX Module through that COM port and read the kay fob button pushes! Using Base Station you can configure the button to toggle, momentary or even set delays. Based on what your action will be will deturmine what type of button action you will require.
Here's What's Needed
Key FoB
KFX Module
Zigmo
N-Button Software
Key Fob Status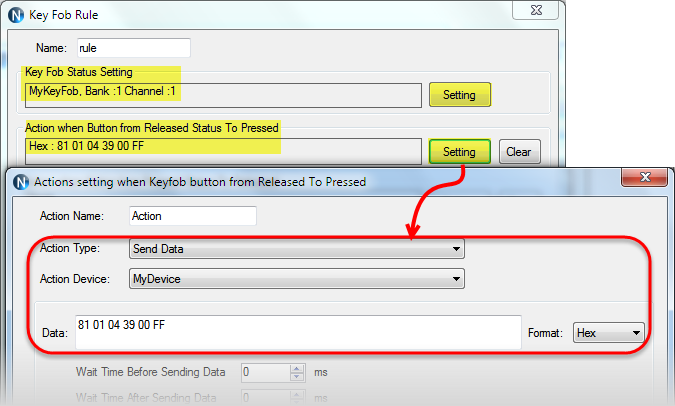 By setting a Key Fob Status widget you can then configure
N
-Button to do a task based on the status. You can send data, control a relay or any task from the Action List.
Send Data
N
-Button gives you the ability to send data to a device by a simply button push! A question that we get alot is being able to send data with a key fob and it can be done using
N
-Button.
Actions List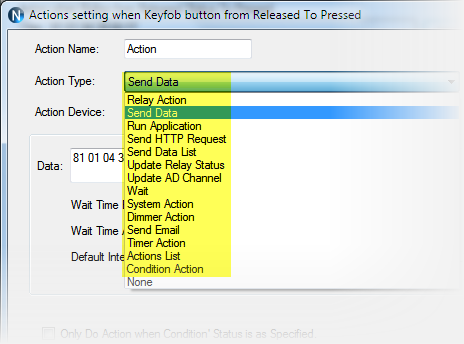 You can set the key fob buttons to do different actions supported by
N
-Button. That means you can execute the entire list actions N-Button offers just by pressing simply pressing a key fob button!
Data Sheets & Quick Start Guides
Below are the Data Sheets Quick Start Guides for this software. These are the guides that will help you setup the software and get it configured. The ProXR Quick Start Guide is where you will find the command set the ProXR and ProXR Lite boards use.