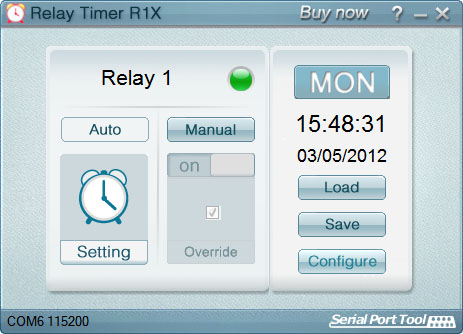 Relay Timer Software at a Glance...
Relay Timer
- Use any ProXR or ProXR Lite Board
- Control Relay with Time Schedule
- Easily Set Time Schedule
- Multiple Schedule Settings
- Save Schedule for later loading
Quick Timer
- Use any ProXR or ProXR Lite Board
- Control Relay in Time Intervals
- Easily Set Active Duration
- Multiple Intervals per Duration
- Save Schedule to Computer
Time Travel
- Change Running Speed for the Computer Clock
- Track Current Time After Clock Change
- Computer Clock Returns to current time on exit
Relay Timer
Relay Timer Software is a programmable timer software to control relays according to a time schedule. The software can be installed on a computer or server and will get it's time from there. For applications where the time schedule must match the computer's time this is a perfect choice. Shift changes, school bells and such can match a time clock installed on the same computer.
Quick Timer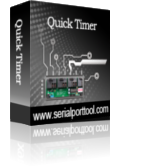 Quick Timer Software supports turning on/off each relay automatically during the predetermined duration. First set the duration that you want the sequence to be active. Time periods can then be set where the relay is energized within the set duration. Quick Timer can control relays in any given pattern for almost any duration. It's great for Science Projects, Bench Testing, Lab Experiments, and more!
Time Travel

Time Travel software solves the age old question of time travel (at least for your PC)! The software is free and is included is all versions of Relay Timer, Quick Timer and N-Button software sold. Time Travel is also offered as a free download on this site. Time Travel allows you to test the time settings you have set in Relay Timer for example. You can set your time configuration and wait in real time for the relays to trigger or you can speed up your computer's clock and test quickly using Time Travel! Save time and frustration by making changes quicker than real time!