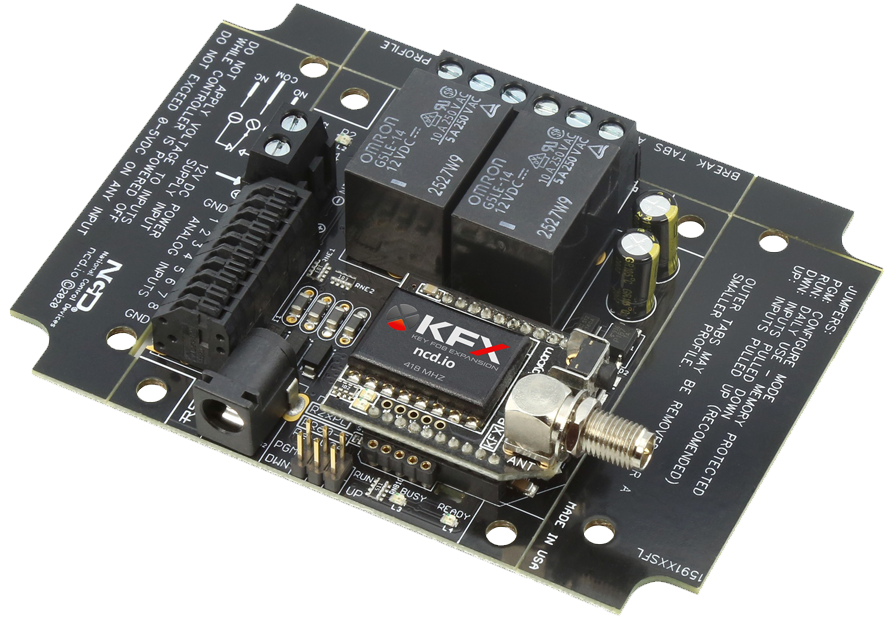 Wireless Relay at a Glance...
Wireless Contact Closure Control
- 2 Mile (3.2Km) Range
- Sold in Pairs or Groups
- Dry Contact Controls Relays Wirelessly
Wireless Key Fob Control
- 750' (228 Meter) Range
- Pair up to 40 Key Fobs Per Board
- You Program the Action
Computer Controlled Wireless Relay
&nbsp - Industry Leading Command Set
- Program in Almost Any Language
Wireless Push Notification
- Send Text and/or Email From Dry Contact
Selecting a Wireless Relay
Wireless Relays are available in four different wireless protocols - more than any other manufacturer. Each protocol is slightly different in terms of the wireless range that they can transmit in addition to the type of wireless it is. Some wireless options have different ranges that they can transmit, this is done by adding an external antenna at checkout. Select a wireless relay that fits your needs or range that you are looking to transmit. All distances quoted below are with Line-Of-Sight operation, any obstructions can greatly diminish range or stop the signal altogether.
Wireless Relay Modules
Wireless transmission is achieved by modules installed on the board. All boards have modules installed and when you select a wireless protocol the appropriate module will be installed. Pictures shown on the site will have the short range antenna but in most cases there are external antennas available.
Other Wireless Relay Options
A quick note regarding some of the boards you will find below. The Contact Closure Relays do not need a computer and will transmit wirelessly between two or more boards with a dry contact controlling the relay and not a computer. The Key Fob Relays are triggered with a key fob wirelessly and again does not need a computer except for configuration. Scroll down for a full list of all Wireless Relays that we offer and click the links for more information on each one.