900HP Interface Module
900HP
$85.00
900HP Interface Module
900HP
$85.00
900HP Modules at a Glance
Wireless Connection
- Reliable 2-Mile Range
- Direct Antenna Connection
- Line-Of-Site Operation for Optimal Range
- Requires 900HP Modem
External Antenna
- RP-SMA Antenna Connection
- Extensions Available (20' max)
Compatible with
- ProXR & ProXR Lite Boards
- Taralist Boards
- Reactor Boards
- Fusion Boards
XBee-PRO 900 RF Module
This is the US/Canada version. The XBee-PRO 900 RF module is ideally suited for less power-hungry, low-latency point-to-multipoint networking applications. Capable of point-to-point, peer-to-peer and point-to-multipoint networking, The XBee-900 modules have a higher selectable transmitting power of 250mW. This higher TX power allows for line-of-sight range up to 28 miles with the right antenna. It is ideal for solutions where RF penetration and absolute transmission distance are paramount to the application.
2-Mile+ Wireless Range
Please note that NCD engineers have not tested the 28-Mile range of this device. We have tested this device at 2 Miles with excellent results using smaller antennas than what would be required to achieve the 28-Mile range achieved by the manufacturer. All range tests are conducted in clear line-of-sight installations. It is not possible for us to accurately predict range prior to purchase. We cannot predict range inside buildings, using google map images, or predict interference that may be present at your location that would prohibit proper operation.
Building Larger Networks
You can build networks up to 128 nodes using these XBee devices. For larger networks of up to 1,000 or more nodes, Digi International offers RF optimization services to assist with proper network configuration. For more information network configuration, contact Digi Technical Support.
Notice: Digi.com wireless modules are shipped pre-configured for best compatibility with NCD products.
RoHS Compliant

This module is led free and RoHS Compliant. If your requirements are for RoHS compliant parts this module is manufactured with RoHS compliant led free parts and solder.
For Use in North America
For use in North America (United States, Canada, Mexico) Australia, Brazil, and Singapore also supported with changes to Channel mask settings.
Singapore:
The labeling of equipment is per Info-communications Development Authority of Singapore (Singapore IDA, www.ida.gov.sg/). This license is only for the Digi XB900HP radio and not the final product, so customers must be aware that they should find a consultant who is aware of the requirements and can guide them through the process of obtaining a license for their product with Singapore IDA. The license number is DA105737.
Canada Labeling Requirement:
Contains IC: 1846A-XB900HP
ISED (Innovation, Science and Economic Development Canada) This device complies with Industry Canada license-exempt RSS standard(s). Operation is subject to the following two conditions: (1) this device may not cause interference, and (2) this device must accept any interference, including interference that may cause undesired operation of the device.
Wireless Modem
The XBP24-AUI-EXT_ZIGMO modem is required. It plugs into the UPS port on your PC and will mount as a COM port. Next, send commands to the COM port as and the modem will forward the commands wirelessly to the board!. That's all there is to it!!! It is possible to communicate to many 802.15.4 devices within range. This modem is Powered by the USB Port and includes USB Cable and Enclosure.
Click Here for More
Data Sheets & Quick Start Guides
Below are the Data Sheets Quick Start Guides for this board. These are the guides that will help you communicate and configure this module.
900MHz Quick Start Guide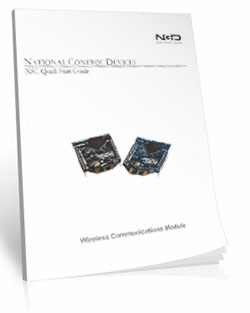 Click to Download
XBee Modules Data Sheet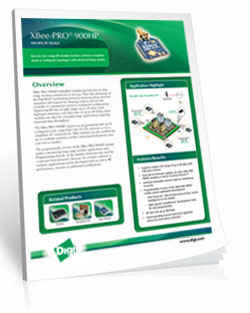 Click to Download