MirX/MirC Replacement Ethernet Modules
LanX_Mirror_Ethernet_Pair
$329.00
---
Replacement Modules
This set of modules are replacement modules for the MCNET or MXNET boards. You can convert your current wireless or wired sets to this Ethernet version but the board will need to be sent in to have different firmware installed.
MirX/MirC Replacement Ethernet Modules
LanX_Mirror_Ethernet_Pair
$329.00
LanX_Mirror_Ethernet_Pair Modules at a Glance
Network Communication Options:
- Direct TCP/IP Communications
- Supports DHCP
- Fixed IP Not Required
- Supports Fixed IP Address (MirX ONLY)
Compatible with
- MirC Boards
- MirX Boards
About the LanX_Mirror_Ethernet Modules
The LanX_Mirror_Ethernet_Pair are replacement ethernet modules for the MCNET and MXNET modules are sold in pairs, you will receive both boards shown here when you purchase this set. The The modules will ship as a married pair and should be used to replace the modules that shipped with boards. The modules are "married" together using the MAC addresses on each module so they will only communicate with each other. Multiple sets of these can be used on the same network without interfearing with each other.
Converting From Wireless
If you currently have a wireless set of MirC or MirX boards and would like to convert it to these Ethernet versions thi can be done. You will need to purchase this pair of modules and send in your boards and have them flashed with new Ethernet firmware before they will operate.
Lantronix XPort Pro Modules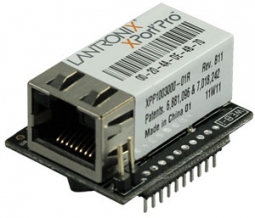 Each board is equipped with a Lantronix Pro module. The Lantronix module will connect to your router with a standard CAT-5 cable. The router will assign the module an IP address, the module will then check with the mirror server for the IP address of it's paired board. Once the modules know the IP address of each other they will connect directly with each other. LAN applications will not require an internet connection and the modules will find their mate on their own. The module is powered from the board and each board will require 12 volts of power and can be hard wired or you can purchase a "wall wart" type transformer at checkout.
Local Area Network Communication
These modules will operate on a local area network. When two modules are in the same local area network, they can communicate to each other directly without an Internet connection. They have the ability to find each other on the network without any configuration. A static IP address may be assigned but is not necessary. If the router assigns a new static IP address the boards will simply look for each other on the network (using their MAC addresses) and begin communicating again.
Internet Communication
Using the ethernet pair over the internet, a 3rd party server is required. Two Lenux servers are used as a central hub and backup for MCNET communications and keeps each controller in communications with the other. You do not have to use these servers; you can install software on your own server and use it instead or in combination with the Lenux server. In fact, you can install our software on up to 4 servers. If one server is down, another server will be used as a backup path for communications. Your MirC-MCNET controller works right out of the box with our server, but you can add more servers if you want to increase the reliability. The external server is not required when using the boards over a local area network (LAN). LAN connected MCNET boards will find each other directly (each location must be connected to an Ethernet router or switch).
Port Forwarding
When using these boards over the internet and outside the Local Area Network, Port Forwarding on each router will be required. Port Forwarding is a protocol used by your router to allow incoming requests for connections to get through to a specific device on a specific port. Below is an example of how it works. In this example a router has been setup to forward incoming requests for port 2101 to the device at the IP Address 192.168.2.19 on port 2101. Now when any device that tries to access this Port on the External IP Address the router will see the request and automatically forward the request to the device at the IP Address of 192.168.2.19 on port 2101. If this Port Forwarding rule was not in place and a request came in on port 2101 the router would not know which port or device to forward it to and the request for connection would be denied. Note: Port Forwarding will not be necessary when using this within a Local Area Network. For more on Port Forwarding with detailed instructions for every router visit:
https://portforward.com/
.

RoHS Compliant
This board is led free and RoHS Compliant. If your requirements are for RoHS compliant parts this board is manufactured with RoHS compliant led free parts and solder.
Data Sheets & Quick Start Guides
Below are the Data Sheets Quick Start Guides for this board. These are the guides that will help you communicate and configure this board.
XPort Pro Data Sheet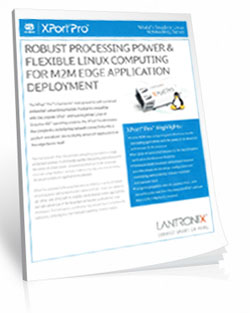 Click to Download
MCNET Quick Start Guide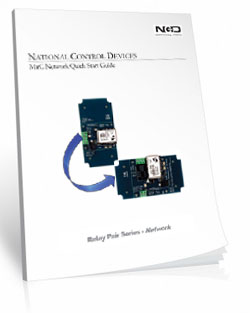 Click to Download
MXNET Quick Start Guide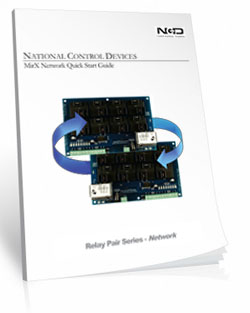 Click to Download