4-Button Key Fob
OTX-418-HH-KF4-MS
$49.00
---
Key Fob Range
The absolute maximum rated range of the OTX-418-HH-KF4-MS Key Fob is 750 feet. Key Fob range can depend on many factors. The maximum ratings are achieved in an outdoor environment with clear line-of-sight and minimal radio interference (in the country). The ranges provided are in absolute best possible conditions for radio communications.
4-Button Key Fob
OTX-418-HH-KF4-MS
$49.00
Key Fob at a Glance
Compatible with KFX Modules
4-Button Key Fob
- Distance 750 Feet (228 meters)

Pairing Key Fob to Module
- Pair up to 40 Key Fobs Per Board
- Pair Key Fob to Multiple Boards
Many Button Commands Available
- Toggle Command, Push On - Push Off
- Momentary Command, Active Only When Pushed
- Add Delay for Auto Shut-Off Function
Key Fob Pairing
The key fobs can be paired to a specific module or board. If you have multiple boards within range the key fob will only communicate to it's paired board. Key Fobs can also be paired to multiple boards and if they are within range all will energize with a button push.
The Key Fob Interface
Easy Key Fob Control
If your application requires you to control a relay from a wireless remote control, then our Key Fob Relay boards will offer the most powerful solution available on the market today. Not to be confused with single function low-cost solutions, our Key Fob Relay boards are years ahead! Configure your Key Fob Buttons to control relays in just about any way you can think of!
Key Fob Functions
A button push on the key fob can be set for a simple on/off function and so much more! Most users use the key fob as a toggle or momentary setting. The toggle command is a push-on push-off command push a button and the relay will remain energized until the button is pushed again to turn it off. A push and release command can be set for a momentary command, when the button is pushed the relay energizes and when you release the button the relay turns off. Either of these commands will be set before your board ships. More complicated commands can be configured as well! Relay groupings if you want one button to control more than one relay. Time delays can be set where one button push can control the relay for a prediturmined time and the relay will turn off automatically!
Easy Configuration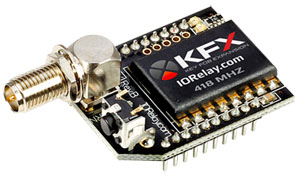 This board is equipped with a KFX Module. The KFX communications module adds key fob capabilities to the board. Configuring the board is done using Base Station Sofware, a free download. Point and click configuration using a numerical command set get's the action your looking for for each button push. We'll even do the setup for you, choose toggle or momentary at checkout above!
Common Commands
Here's a brief list of some of the more common commands used when a button is pushed on the key fob.
Toggle and Momentary Commands
Turn Off All Relays Then Turn On a Specific Relay
Relay Timers: Relay Energized for a Specific Time
Relay Pulse Commands
Relay Grouping: Controlling Multiple Relays Together
Relay Flashing Commands
Key Fob Range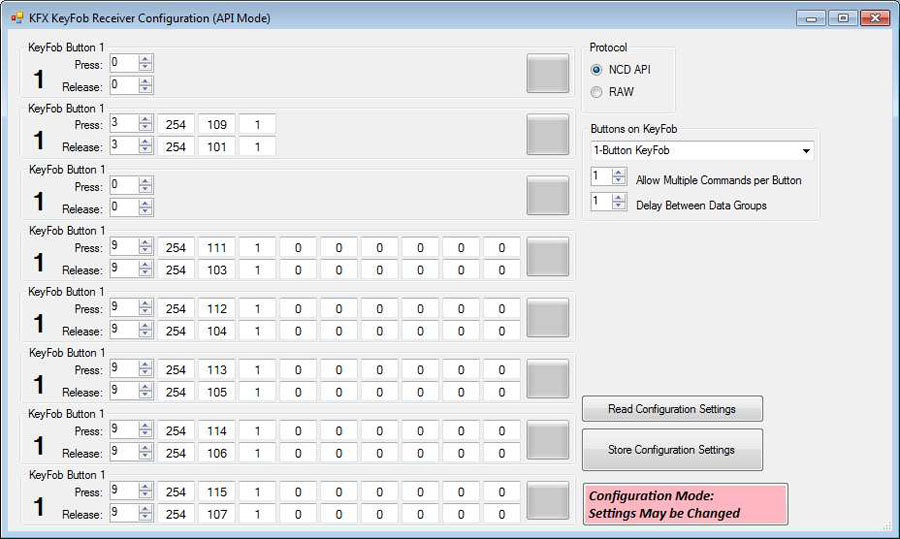 The rated range of the MS series Key Fobs is 750 feet (228 meters). The MS 8-Button Key Fob with an external antenna is rated at 1,000 feet (304 meters). Key Fob range can depend on many factors. The maximum ratings are achieved in an outdoor environment with clear line-of-sight and minimal radio interference (in the country).
Up to 40 Key Fobs
With a single KFX receiver module, users may associate up to 40 key fobs, including 1, 2, 4 and 8-Buttons (available at checkout). Every Key Fob paired with a KFX Receiver will perform the exact same function as another Key Fob paired with the same KFX Receiver. It is not possible for each remote to be separately identified and generate different data for. Put simply, every remote does exactly the same thing when paired with the same KFX Receiver.
ZigMo Configuration Kit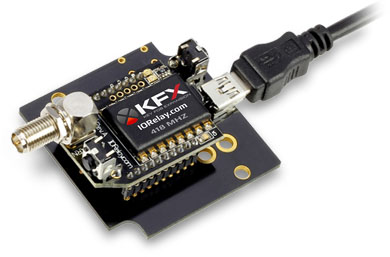 The KFX Receiver Module is configured using Base Station Software (a free download), and must be plugged into the ZIGMO Configuration Board only during configuration. Only one ZIGMO is needed regardless of the number of KFX Receivers you intend to use. The ZIGMO acts as an interface between your computer and the KFX Receiver, allowing you to define the Baud Rate, and Data Bytes that are transmitted for each Key Fob button Press. The ZIGMO is included with the KFX Integration Kit and available at checkout.
Key Fob Configuration
Who's Qualified to Use the Key Fob Series?
Some computer skills required. The Key Fob Relays do not require programming, simply configure the module with the included Base Station Software. While programming is not required and simple functions can be done rather easily with basic computer skills, complex events can be configured which will require some understanding and patience.
Data Sheets & Quick Start Guides
Below are the Data Sheets Quick Start Guides for this board. These are the guides that will help you communicate and configure this board.
KFX Quick Start Guide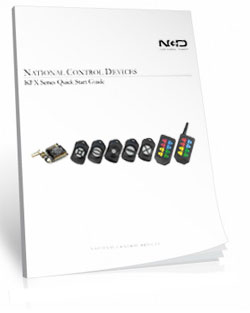 Click to Download
Key Fob Data Sheet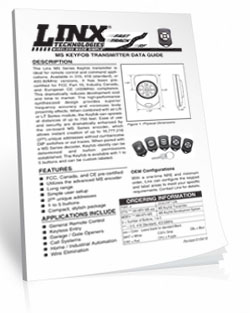 Click to Download