Regulated Power Supply 12 Volt 1.25 Amp
PWR12
$24.00
---
Clean Power is Essential
Good clean power essential for the operation of the board. For the switching of the relays and more importantly powering the firmware that processes the commands. Without it, the board can become unreliable.
Regulated Power Supply 12 Volt 1.25 Amp
PWR12
$24.00
PWR12 at a Glance
WS New Switch-Mode Topology
- 25% More Efficient
- 50% Smaller
- 70% Lighter
120VAC to 12VDC 1.25A 60Hz
Plugs into the Barrel Connector on the Board
2.1mm I.D. x 5.5mm O.D. x 9.5mm R/A Barrel Connector
Input Voltage rating: 100-240VAC, 50-60Hz
Input Voltage range: 90-264VAC
Input current: <0.5A(RMS) @ 115VAC
Max Inrush Current: <80A peak @ 115VAC (Cold start)
Output Cord: 22 AWG, 6 Ft. Long Nom
Average Efficiency: ≥85.00%
&nbsp - Meets Minimum Level VI Efficiency
PWR12 Power Supply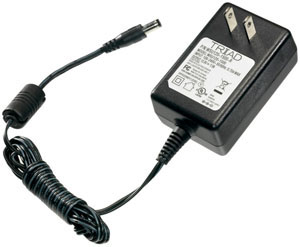 Applying Good clean power to the board in essential for the operation of the board. Not only for the switching of the relays but the firmware that processes the commands. Without good steady clean power from a regulated power supply the board simply will not function correctly. More that one troubleshooting question has turned out to be from someone who says they are using a power supply that they had "just laying around" and it was not sufficient enough to provide the power needed to operate the board. We also carry an international power supply with interchangeable adapters for international customers.
Triad Quality & Reliability
The WSs surface mount construction with automated assembly delivers higher quality and reliability. The result is a dependable power supply offering longer life at a lower cost of ownership. The WS series also offers class B EMI certification with excellent power isolation, filtering out noise and providing common mode signal rejection.
Power Requirements
All boards on the site require 12 VDC power. The PWR12 US power supply is a 120VAC to 12VDC 1.25A 60Hz regulated power supply and it plugs into the barrel connector on the board. The output connector is a 2.1mm I.D. x 5.5mm O.D. x 9.5mm R/A barrel connector.
RoHS Compliant

This power supply is led free and RoHS Compliant. If your requirements are for RoHS compliant parts this power supply is manufactured with RoHS compliant led free parts and solder.
Sharing Power Supplies w/Inductive Loads
This power supply should not be shared with the board and inductive loads. For instance, you should never use a single power supply to power a board and a 12V DC Motor. Doing so will introduce extremely high-voltage spikes that will damage the logic and power regulation portions of the board, in many cases it will not be repairable and void the warranty. Induction spikes that do not damage the board can interfere with the logic on the board so the firmware cannot process the commands requiring power cycling the board to restore functions.
Environmental Specifications
Operating Temperature Range: 0°C to +40° C @ full load
Storage Temperature Range: -20°C to 60°C
Humidity: 5% to 95%, Non-Condensing
Reliability Specifications
Regulated Power Supply
Leakage Current: <0.25mA (264VAC)
Dielectric Strength (Hi-pot): 4242VDC/3secs., 5mA Max
Warranty: 5 Years
Data Sheets & Quick Start Guides
Below is the Data Sheet for this power supply.
PWR12 Power Supply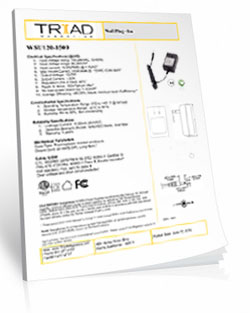 Click to Download