USB Interface Module
ZUSB
$43.00
---
ZUSB Interface
The ZUSB communications module adds USB communications to the board. The ZUSB module is powered from the USB port of your computer. This module replaces any ProXR or ProXR Lite board's module even if you have a different module installed.


USB Interface Module
ZUSB
$43.00
ZUSB Modules at a Glance
Three Options for USB Connection
- Top connection
- Side Connection
- Top & Side Connections
- Temperature Rating -40° C to 85° C
Compatible with
- ProXR & ProXR Lite Boards
- Taralist Boards
- Reactor Boards
- Fusion Boards

Reliable USB Communication
ZUSB Modules
This board is equipped with a ZUSB Module. The ZUSB communications module adds USB communications to the board. The ZUSB module is powered from the USB port of your computer and includes a 6' USB Cable. The board itself will require 12 volts of power and can be hard wired or you can purchase a "wall wart" type
Power Supply
at checkout.
Induction Capacitors
Perhaps the most overlooked aspect of relay control is proper handling of inductive loads. Inductive loads can best be defined as anything with a magnetic coil, such as a motor, solenoid, or a transformer. Controlling a inductive load using this relay controller requires the use of induction suppression capacitors. The purpose of this capacitor is to absorb the high voltages generated by inductive loads, blocking them from the contacts of the relay. Without this capacitor, the lifespan of the relay will be greatly reduced. Induction can be so severe that it electrically interferes with the microprocessor logic of our controllers, causing relay banks to shut themselves down unexpectedly. In the case of USB devices, customers may experience loss of communications until the device is reconnected to the USB port. Capacitors that we offer are available at checkout, for more information view our
Induction Suppression Video
.
Induction Solutions
Even with capacitors in place, the possibility does exist that capacitors will not suppress enough induction to prevent periodic communications loss. Testing is required in these applications. If problems persist, other communications mechanisms must be considered. If USB is required, an RS-232 communications module will allow RS-232 communications between your PC and controller with no complications. A USB to RS-232 adapter can be used in combination with the RS-232 controller. The RS-232 communications format effectively blocks induction to safe levels for a USB to RS-232 adapter to function without errors (look for "RS232 Relays" under Shop by Interface on the left navigation). If the problem persists after you purchase a USB board you can change out the USB module for an RS-232 or wireless module easily.
RoHS Compliant
This module is led free and RoHS Compliant. If your requirements are for RoHS compliant parts this board is manufactured with RoHS compliant led free parts and solder.
USB Relay Videos
---
Data Sheets & Quick Start Guides
Below are the Data Sheets Quick Start Guides for this board. These are the guides that will help you communicate and configure this board.
USB Quick Start Guide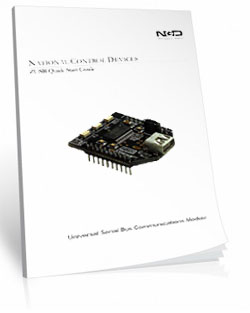 Click to Download