Push Notification Over IP 8-Input
MIRCC8_ETHERNET
$230.00
---
Push Notification Over IP
The MIRCC8_ETHERNET is a Push Notification Over IP allows you to connect a contact closure to the board and send an email or text message when any of the eight circuits are closed. The board will communicate the contact closure information to your computer over your local area network. N-Button Software will then send a text or email from the computer to your selected recipients.


Push Notification Over IP 8-Input
MIRCC8_ETHERNET
$230.00
Push Notification Over IP at a Glance
Reliable Sturdy Design
- 8 Contact Closure Inputs
- Highly reliable Under Almost any Conditions
- Temperature Rating -40° C to 85° C
Push Notification
- Send SMS or Email Message
- Compatible with any Contact Closure Sensor
Onboard Ethernet Interface Module
- Plugs Directly into Router
Network Communication Options:
- Virtual COM Port over Ethernet
- Direct TCP/IP Communications
- Supports DHCP
- Supports Fixed IP Address
N-Button Software
- Point & Click Interface
- Use to Configure Messages
Step-By-Step Setup Instructions
Detailed step-by-step information for connecting the board to your computer, setting up N-Button and configuring the text/email can be found by clicking the link below.
Ethernet Push Notification Setup Instructions

Push Notification Over IP
The MIRCC8_ETHERNET Push Notification board has a contact closure input and an Ethernet interface. When the contact closure input is closed the board will send this information through the network to your computer. Using N-Button software you can send a pre-configured text message or email alerting you that the contact closure has been closed.
3rd Generation Ethernet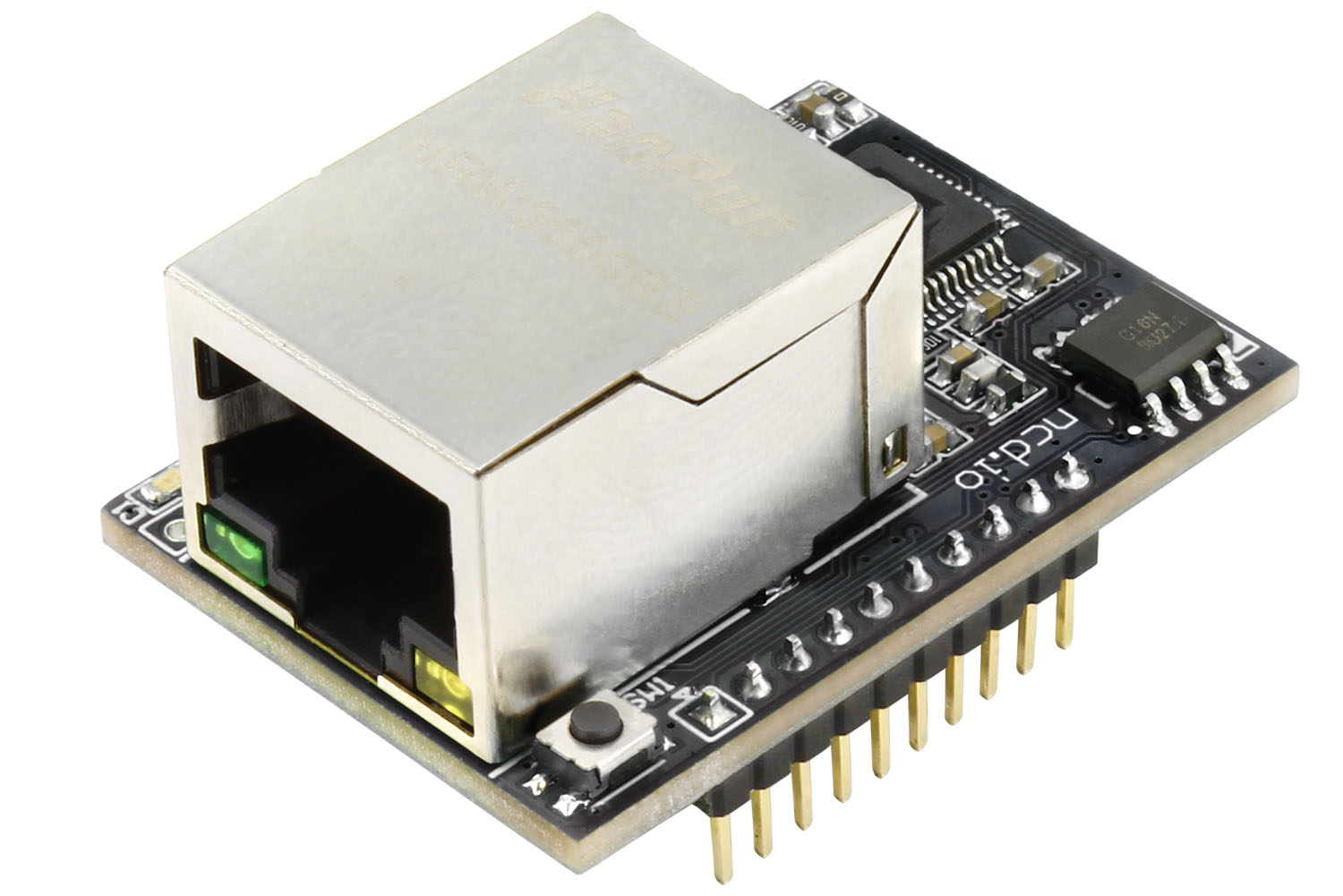 This is NCD's 3rd generation hardware for Ethernet to Serial communications, representing giant steps forward in reliability, easy of use, recover-ability, and LOW COST. Other significant improvements include new recovery options. Not only is a web UI supported (as in previous generations), but also a new Windows application may be used to change settings and recover modules with an unknown IP address! New firmware upgrade options are now available, allowing users to upgrade firmware as new features are released.
Dry Contact Inputs
The Inputs on the Push Notification series controllers are compatible with any type of dry-contact input (no voltage). Use any contact closure input such as a button, sensor or another relay and receive an instant SMS and email messages right to your smart phone, tablet, or computer! Combine with other boards on this site for a total switching/notification package.
How It Works
The MIRCC8_ETHERNET is a contact-closure input detection circuit that automatically forwards sensor data to a network address that you specify. Push Notification controllers do not directly generate Emails or SMS text messages. Optional N-Button software or custom-developed server software is required for this functionality. The Push Notification Quick Start Guide will help you setup your Push Notification Controller for your particular application. For more information on N-Button configuration see
Ethernet N-Button Push Notification Setup
.
Combine with Other Boards
Combine this board with other relays boards on the site and make this a total switching/notification package! If your applications calls for switching you can use another relay on the board as an input for the Push Notification Board and get a message sent when you switch a relay on!
Write Custom Software
IF you are a programmer you can of course write your own program using the programming language you are comfortable with This will allow our WiFi Push Notification board to Push data into your program where it can be parsed, logged, and evaluated according to your needs.
Ethernet Push Notification Video
---
Attention: No Voltage Input
Please Note: Users must NEVER apply any voltage to an input on the Push Notification Board, these inputs are for
Dry Contact Connections ONLY.
Push Notification Board
In this tab we'll look at the Push Notification capabilities of N-Button. The has contact closure input(s) and an interface that will communicate to you computer. When a contact closure input is closed using N-Button or a software program that you develop you can read these inputs and send an email or text message with the connected computer. Please Note: no voltage can be put into the input of this board, it will damage the board. Fully tested before they leave the production facility each board is ready to stand up to rigorous demands from heat, cold or vibration. The best test of all is the numerous boards in the field from customers all over the world in all sorts of conditions. Take it from us, these controllers will hold up!
Break-A-Way Tabs for a Smaller Design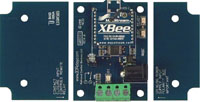 The Push Notification Boards have a great feature where space is a premium - Break-A-Way Tabs. The Break-A-Way Tabs allow most boards to fit in an optional undrilled plastic enclosure. Snap off the Break-A-Way Tabs and you have a controller with a smaller profile when you need to fit in a tight space.
RoHS Option
This board is manufacturered RoHS compliant with led free solder and parts.
5-Year Warranty/Money Back Guarantee
Push Notification Boards are guaranteed against manufacturing and functionality defects for a full 5 years! Not to mention a 30-day money back guarantee! If for any reason you are not happy with a board purchased from Relay Pros, simply return it within 30 days and we will give you your money back! Boards that are damaged by our customers will not of course be warranted under any circumstances.
Shipping
The boards sold are brand new units shipped from our office conveniently located in Missouri. These boards are completely tested before they are released for shipping With so many boards on our site it is impossible to stock boards, please allow two to three days production time for your order to ship. If you have any questions please feel free to call our office at 800-960-4287 or e-mail us at sales@relaypros.com.
Contact Closure Notification Is Here!
A more streamlined manufacturing process brings a more durable, reliable and better relay board to the market. Here's a lists of great features:
User Friendly Board Design
Surface Mount Allows for a Smaller Board
Break-A-Way Tabs Lets You Decide the Board's Size
Screw Terminal Contact Closure Connections
RoHS Compliant
Push Notification Features
Send Email or Text From Contact Closure
Purchase Power Supply or Hard Wire Power
N-Button Software Means No Programming
Compatible with any Contact Closure Input
N-Button Software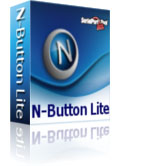 N
-Button Pro/Lite make this a complete package to send a text message or email without programming knowledge. N-Button is a point-and-click software that will allow you to configure the message that is sent and who will receive it. Full support from the developer of this software means just about anyone can send a message from something as a button push to something as complex as a security system alert.
Here's a quick overview
1. Download and Install N-Button Pro or N-Button Lite
2. Connect your Push Notification Board with your Computer
3. Run N-Button Pro/Lite to show N-Button Pro/Lite Manager
4. Add the Connected Push Notification Board to Devices Manager
Detailed setup information can be found in the Need More Information section below.
Here's How it Works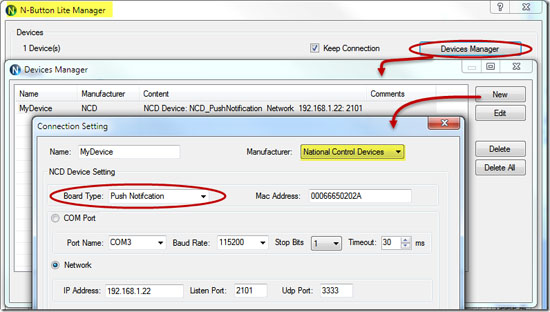 N-Button is the software you will use to send the text and/or email from a computer and allow you to put a button on the desktop of your computer to monitor the input(s) on the Push Notification board. The Push Notification board can be connected to the computer either from a USB cable, Ethernet or the Wi-Fi connection, which ever you choose to use. Setting up N-Button is fairly simple, setting up communications to the board, setting up the email accounts and typing out the email/text message.
Email & Test Setup
You can send a email and/or text to a selected recipients with an alert that the contact closure has been activated. A Subject and message can be sent stating exactly what contact closure has been activated. You configure the message sent.
Desktop Monitoring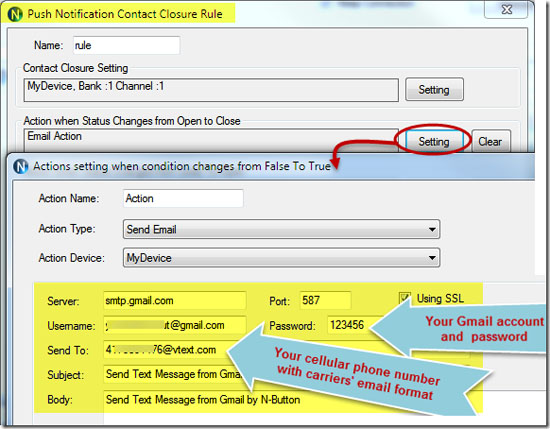 N-Button also allows you to put a button on the desktop to monitor the contact closure. You can assign a color for either state the contact closure is in. This can be placed on the desktop of the computer for an easy way to check the status of the contact closure! This can also be done instead of sending a text message. If you don't want to send out a message but want a visual status of the contact closure simply skip the text/email portion of the setup and you will have a visual reference of the output.
Components Needed
Here's what you will need to set up a contact closure notification
Push Notification Board
N-Button Software
Computer (not provided by Relay Pros)
Contact Closure Sensor (not provided by Relay Pros)
Need More Information?
Detailed step-by-step information for each interface can be found by clicking the links below.
USB Push Notification Setup
Ethernet Push Notification Setup
Wi-Fi Push Notification Setup
Push Notification Videos
---
Power Supply Available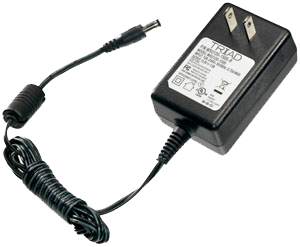 The PWR12 is regulated power supply providing clean power necessary for the performance of these boards. The PWR12 US power supply is a 120VAC to 12VDC 1.25A 60Hz regulated power supply and it plugs into the barrel connector on the board. The output connector is a 2.1mm I.D. x 5.5mm O.D. x 9.5mm R/A barrel connector.
Click Here for More
Enclosure Available
The SR171B Enclosure is an undrilled, non-waterproof enclosure and is available at checkout for this controller.
Spec Sheet and Drawings:
ENC-SR171B
N-Button Pro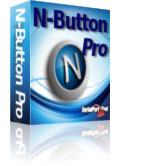 N-Button Pro is software will read the eight inputs on the board and send out the text and/or email message. You can configure seperate text and/or email for each input and send them to multiple recipients! For detailed instructions on setting up the board and messages
Click Here
!
Ethernet Push Notification Quick Start Guides
Below are the Push Notifications Quick Start Guides, these are the guides that will help you setup the board on your computer and configure the software. The Ethernet Push Quick Start Guide is a Step-By-Step guide to establishing communication with the board on your network and setting up N-Button Software.
Gen3 Ethernet Push Quick Start Guide

Click to Download
Gen3 Ethernet Quick Start Guide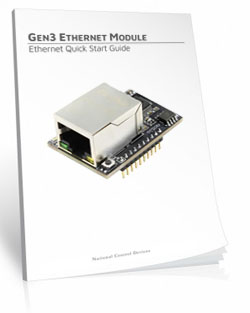 Click to Download
N-Button Lite Quick Start Guide

Click to Download