Long Range Wireless Relay 1-Channel 30-Amp ProXR Lite
R130PL_XSC
$161.00
---
Wireless Relay
The R130PL_XSC Long Range Wireless Relay will allow you to wirelessly control the relay using a 900 MHz frequency band. The board uses a modem connected to the USB port of your computer to wirelessly communicate to the board. The modem mounts as a COM port on your PC, send your commands to the COM port and the modem wirelessly sends the command to the board. That's all there is to it!!!
R130PL_XSC The Ideal Choice
The R130PL_XSC Long Range Wireless Relay is an ideal choice for applications that require fast, reliable wireless relay control using a computer. The 900 MHz frequency allows for better communication through walls and obstructions. While line-of-site is always vital for optimal range the 900MHz frequency is the best option when obstructions are unavoidable.
Long Range Wireless Relay 1-Channel 30-Amp ProXR Lite
R130PL_XSC
$161.00
Long Range Wireless Relay at a Glance
1 30-Amp Relay Installed
- Single Pole Single Throw (SPST) Relay
- Temperature Rating -40° C to 85° C
- Not-Expandable
Onboard 900MHz Wireless Interface
- Reliable 2-Mile Standard Module
- Requires 900MHz Modem
- Modem Mounts as a Virtual COM Port
Industry Leading Command Set
- Send Specific Commands to Trigger Relays
- Trigger Any or All Relays
- Program in Almost any Language
- Read 0 to 5 Volt Sensors
Wireless Range
900 MHz boards operate reliably and efficiently when the antennas can "see" each other. Obstructions like walls, buildings and even trees and hills can diminish the signal or prevent communication altogether. Metal being the worst for any wireless signal to penetrate with stone and brick and being a close second. Positioning the antennas for line-of-site operation will greatly increase reliability.
Long Range Wireless
XBee-PRO 900HP embedded modules provide best-in-class range wireless connectivity to devices. They are easy to setup and use, reliable and capable of transmitting a ling distance. You will need an 900MHz modem that plugs into your USB port of your computer to talk any number of boards with a standard range of 2-miles and up to 15 miles. You can choose the distance of the module installed at checkout.
Line-Of-Site Operation
As with any wireless technologies, for optimal performance it needs to be line-of-sight. In other words the antennas of the board and modem must "see" each other to get the optimal range or even be able to communicate at all. Mounting slots on the modem make it easy to attach to a wall to allow for line-of-site operation.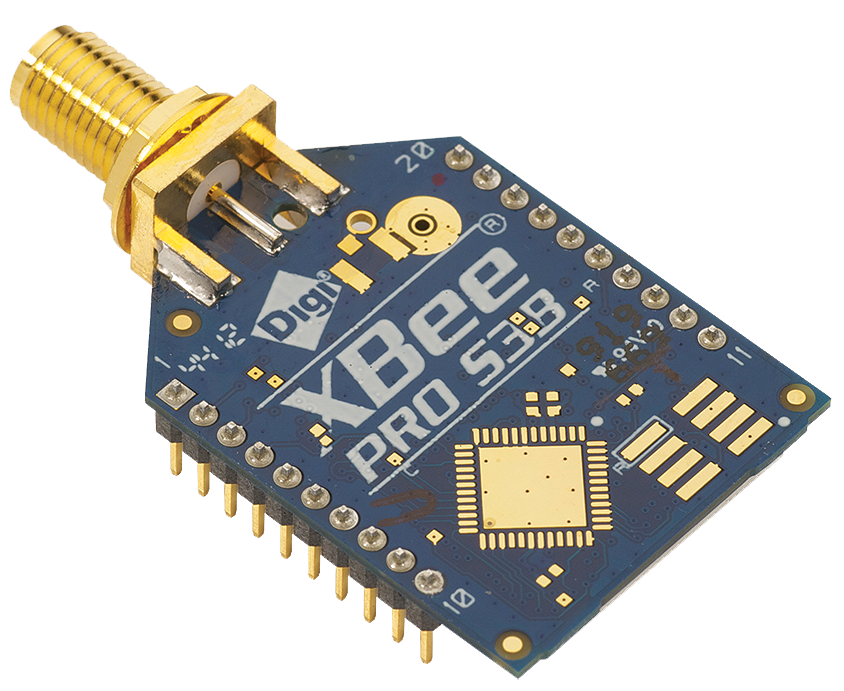 XBee-PRO 900 RF Module
This board is equipped with an 900HP Module. The XBee-PRO 900 RF module is ideally suited for less power-hungry, low-latency point-to-multipoint networking applications. Capable of point-to-point, peer-to-peer and point-to-multipoint networking, The XBee-900 modules have a higher selectable transmitting power of 250mW. This higher TX power allows for line-of-sight range up to 28 miles with the right antenna. It is ideal for solutions where RF penetration and absolute transmission distance are paramount to the application.
Standard Range Antenna
The XSC900SR Standard Range Antenna (distance of 2 miles) is included with the price of the controller. The included antenna is a 6" whip antenna with an RP-SMA threaded connection. The antenna will screw directly onto the wireless module.
900MHz Wireless Modem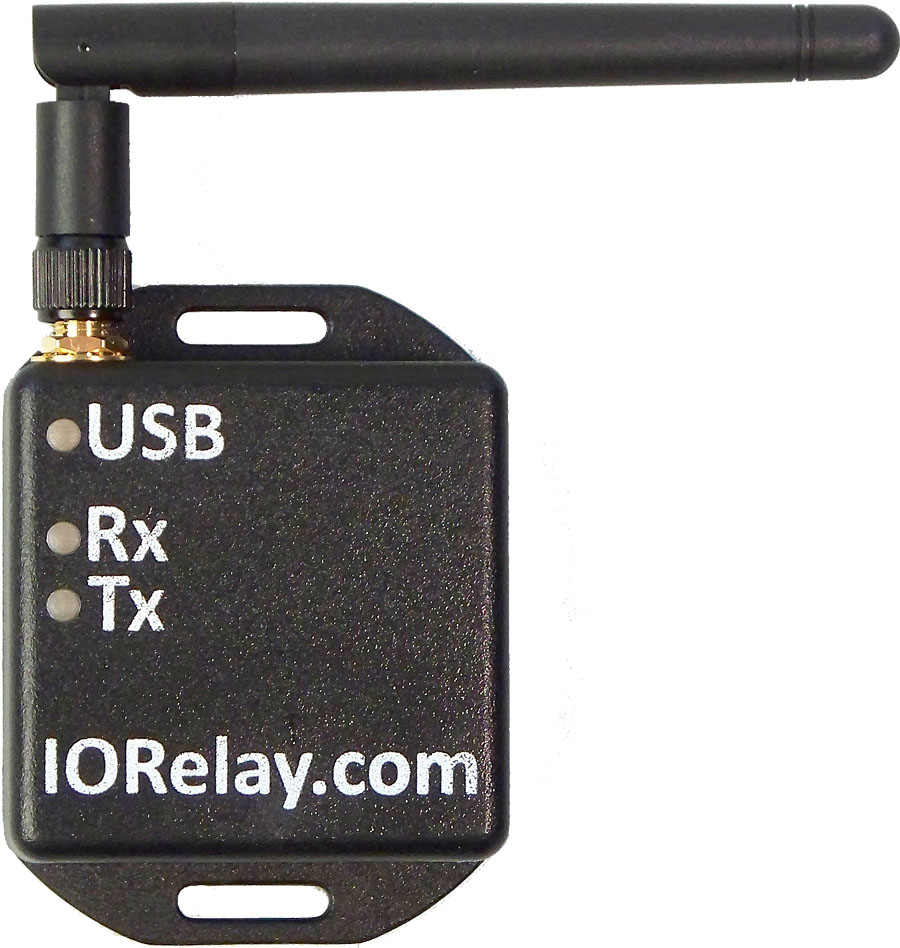 Plug the UXSCMSR_ZIGMO short range modem or UXSCMLR_ZIGMO long range modem into the USB Port of your computer. The modem will mount as a COM port on your PC. Open the COM port and start sending data to the modem. The modem will forward your data to all Wireless XSC compliant devices within range (it is also possible to speak to a specific device when other controllers are in range). The modem is also available at checkout.
XSC Modem
Sending Commands
Base Station Software is available at no charge to get you up and running fast (more on Base Station below). Once powered up, the controller waits for a ProXR command. A command consists of a few bytes of data in numerical format usually between 2 and 6 bytes. Once the command has been received, the controller processes the command, and sends you back ASCII character code 85 to signal the completion of your command.
Induction Suppression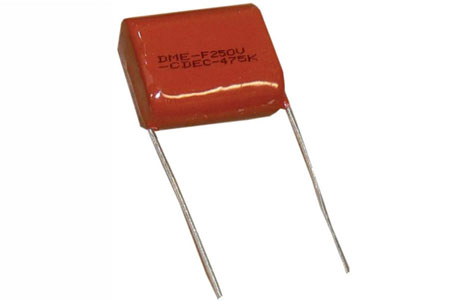 Perhaps the most overlooked aspect of relay control is proper handling of inductive loads. Inductive loads can best be defined as anything with a magnetic coil, such as a motor, solenoid, or a transformer. Controlling a inductive load using this relay controller requires the use of induction suppression capacitors. The purpose of this capacitor is to absorb the high voltages generated by inductive loads, blocking them from the contacts of the relay. Without this capacitor, the lifespan of the relay will be greatly reduced. Induction can be so severe that it electrically interferes with the microprocessor logic of our controllers, causing relay banks to shut themselves down unexpectedly. In the case of Ethernet devices, customers may experience loss of communications until the device is reconnected. Capacitors that we offer are available at checkout, for more information view our
Induction Suppression Video
.
900 MHz Relay Videos
---
ProXR Lite Relay
In this tab we'll take a look at the board design itself. The ProXR Lite series controllers are machine manufactured for a highly accurate and reliable design. Fully tested before they leave the production facility each ProXR Lite controller is ready to stand up to rigorous demands from heat, cold or vibration. The best test of all is the numerous boards in the field from customers all over the world in all sorts of conditions. Take it from us, these controllers will hold up!
Not Expandable
Unlike it's big brother, the ProXR Series, the ProXR Lite series controllers are NOT expandable. The firmware still thinks 256 relays are available but the relay portion of the controller only responds to the first 1, 2, 4 or 8 relays in Bank 1.
Full ProXR Enhanced Firmware Installed
This board has ProXR Firmware installed that responds to the full ProXR Command Set - it's just not expandable. The ProXR Firmware is the industry leading firmware for controlling relays with more commands and functionality than any other board on the market. The list of commands and parameters this board is capable of is extensive. ProXR Enhanced is the newly released enhance version of the ProXR Firmware with more commands, more functionality and better control than ever before! For a detailed list of all the commands with descriptions see our
ProXR Enhanced Command Set
.
Essential Power Requirements
Applying Good clean power to the board is essential for the operation of the board. Not only for the switching of the relays but the firmware that processes the commands. Without good steady clean power from a regulated power supply the board simply will not function correctly. All boards on the site require 12 VDC power. The PWR12 US power supply is a 120VAC to 12VDC 1.25A 60Hz regulated power supply and it plugs into the barrel connector on the board. The output connector is a 2.1mm I.D. x 5.5mm O.D. x 9.5mm Female R/A barrel connector. We also carry an international power supply with interchangeable adapters for international customers.
Learn More
Read Analog Sensors
We did NOT skip the Analog Input portion of the ProXR Lite. All ProXR Lite controllers offer a 8-Channel 8/10-Bit Analog to Digital Converter in addition to relay control.