Bluetooth Relay Board 8-Channel 5-Amp ProXR Lite
R85PL_ZBT
$212.00
---
Bluetooth Relay Board
The R85PL_ZBT Bluetooth Relay Board is equipped with a bluetooth interface that will allow you to pair the board with your bluetooth device and control the relays. Pair the board with your Android phone, tablet or computer to send commands over a wireless Bluetooth connection directly to the board.
R85PL_ZBT The Ideal Choice
The R85PL_ZBT Bluetooth Relay Board is a great choice if you are looking for a direct wireless connection from your device to the board and are within a 200' to 300' range.
Secure Connection
Using the Bluetooth Configuration Kit, pin numbers can be assigned to the Bluetooth module making the connection to the board secure.
Bluetooth Relay Board 8-Channel 5-Amp ProXR Lite
R85PL_ZBT
$212.00
Bluetooth Relay Board at a Glance
8 5-Amp Relays Installed
- Single Pole Double Throw (SPDT) Relay
- Temperature Rating -40° C to 85° C
- Not-Expandable
Bluetooth Wireless Interface
- 200 to 300 Ft. Wireless Range
- Mounts as a Virtual COM Port on PC/Laptop
- Pair with Android Phone or Tablet
Industry Leading Command Set
- Send Specific Commands to Trigger Relays
- Trigger Any or All Relays
- Program in Almost any Language
- Read 0 to 5 Volt Sensors
iPhone & iPad Compatibility
Please Note: Apple encrypts the Bluetooth signal on an iPhone and iPad and therefore this board will not communicate with them. We recommend the Web-i browser based interface for the iPhone or iPad users.
Bluetooth Relay
Bluetooth is an ideal wireless platform relay control within a short range. Bluetooth Relays will be paired with your computer, smart phone or tablet using the Bluetooth connection on your device. This involves traditional pairing methods you are already familiar with. Once paired, the R85PL_ZBT will appear in your Bluetooth control panel, and a new COM port will be available for computer users. Once the connection has been established Android users can download the free app from Google Play and start controlling the relay installed.
ZBT Modules
This board is equipped with a ZBT Module. The ZBT communications module adds Bluetooth communications to the board. There are two module options available, for more on each module see
Bluetooth Module Options
The ZBT module is powered from the board. The board itself will require 12 volts of power and can be hard wired or you can purchase a "wall wart" type power supply.
Bluetooth Configuration
Configuration is easy with the optional Bluetooth ZigMo Modem. Simply connect it to the USB port of your computer with the supplied cable. The Bluetooth ZigMo is available as an option when you purchase your Bluetooth controller. The ZBT module will pull off the board and can be installed in the ZigMo for configuration. You can then configure the baud rate and password settings if you require a secure wireless control. After configuration the ZBT module can be re-installed in your board and it's ready to pair with your device.
Sending Commands
For computer users Base Station Software is available at no charge to get you up and running fast (more on Base Station below). Once powered up, the controller waits for a command. A command consists of a few bytes of data in numerical format (
ProXR Enhanced Command Set
) usually between 2 and 6 bytes. Once the command has been received, the controller processes the command, and sends you back ASCII character code 85 to signal the completion of your command. If a command was sent to read the status of the relay the status is sent back.
Induction Suppression
Perhaps the most overlooked aspect of relay control is proper handling of inductive loads. Inductive loads can best be defined as anything with a magnetic coil, such as a motor, solenoid, or a transformer. Controlling a inductive load using this relay controller requires the use of induction suppression capacitors. The purpose of this capacitor is to absorb the high voltages generated by inductive loads, blocking them from the contacts of the relay. Without this capacitor, the lifespan of the relay will be greatly reduced. Induction can be so severe that it electrically interferes with the microprocessor logic of our controllers, causing relay banks to shut themselves down unexpectedly. In the case of Ethernet devices, customers may experience loss of communications until the device is reconnected. Capacitors that we offer are available at checkout, for more information view our
Induction Suppression Video
.
Bluetooth on Apple Computers
Communicating to to this board on a Mac is possible, although it can be a bit tricky. The Bluetooth Mac Terminal video below shows the steps to establish Bluetooth communication and controlling the relay on a Mac.
Bluetooth on iPhone or iPad Unfortunately the iPhone and iPad are a different matter. Apple encrypts the Bluetooth signal on an iPhone and iPad and therefore this board will not communicate with the iPhone or iPad. We recommend the Web-i browser based interface for the iPhone or iPad users.
Bluetooth Relay Videos
---
ProXR Lite Relay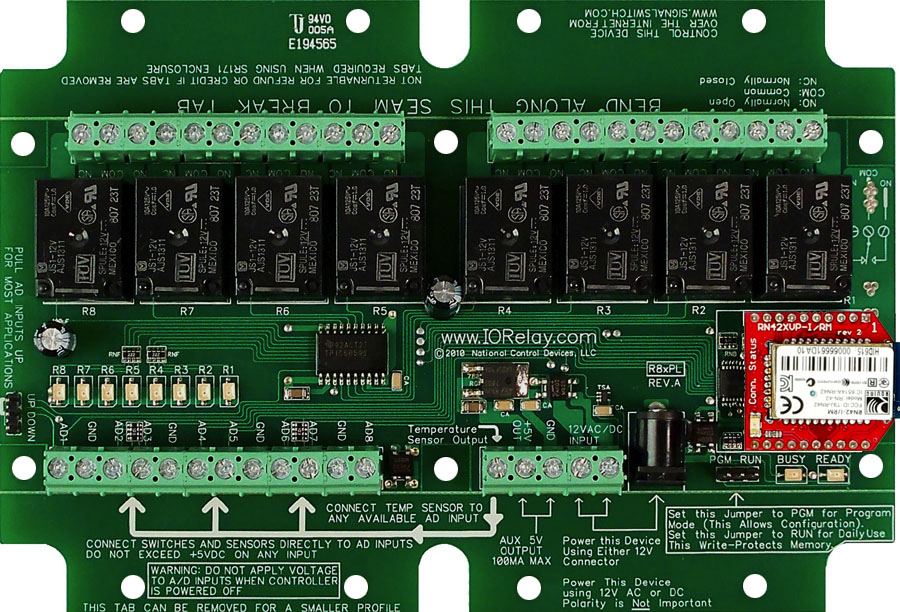 In this tab we'll take a look at the board design itself. The ProXR Lite series controllers are machine manufactured for a highly accurate and reliable design. Fully tested before they leave the production facility each ProXR Lite controller is ready to stand up to rigorous demands from heat, cold or vibration. The best test of all is the numerous boards in the field from customers all over the world in all sorts of conditions. Take it from us, these controllers will hold up!
Not Expandable
Unlike it's big brother, the ProXR Series, the ProXR Lite series controllers are NOT expandable. The firmware still thinks 256 relays are available but the relay portion of the controller only responds to the first 1, 2, 4 or 8 relays in Bank 1.
Full ProXR Enhanced Firmware Installed
This board has ProXR Firmware installed that responds to the full ProXR Command Set - it's just not expandable. The ProXR Firmware is the industry leading firmware for controlling relays with more commands and functionality than any other board on the market. The list of commands and parameters this board is capable of is extensive. ProXR Enhanced firmware has more commands, more functionality and better control than any other manufacturer! For a detailed list of all the commands with descriptions see our
ProXR Enhanced Command Set
.
Essential Power Requirements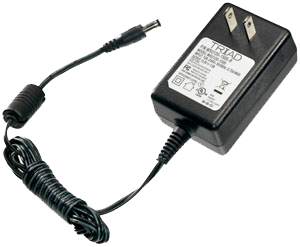 Applying Good clean power to the board is essential for the operation of the board. Not only for the switching of the relays but the firmware that processes the commands. Without good steady clean power from a regulated power supply the board simply will not function correctly. All boards on the site require 12 VDC power. The PWR12 US power supply is a 120VAC to 12VDC 1.25A 60Hz regulated power supply and it plugs into the barrel connector on the board. The output connector is a 2.1mm I.D. x 5.5mm O.D. x 9.5mm Female R/A barrel connector. We also carry an international power supply with interchangeable adapters for international customers.
Learn More
Read Analog Sensors
All ProXR Lite controllers offer a 8-Channel 8/10-Bit Analog to Digital Converter in addition to relay control. Read and control from 8 sensors per board from 0 to 5 volts (0 being a dry contact)! A/D inputs are ideal for reading the on/off status of switches, connect a switch between input and ground and software may then be used to monitor the contact closure status of the switch. AD inputs can also be used for reading variable resistance signals, the board will then will return a value between 0-255. Click the grey Data Sheets tab above and look for the AD8 Quick Start Guide to see the full AD command set.
SPDT Relay Installed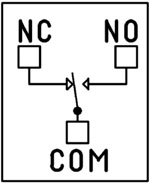 This device has SPDT relays installed. SPDT Single Pole Double Throw Relays have three connections - Common, Normally Open, and Normally Closed. When the relay is off, the common is connected to the normally closed connection of the relay. When the relay coil is energized, the Common swings over to the Normally Open Connection of the Relay. You can wire the device you are switching to either the Normally Open or the Normally Closed position using screw terminal connections. The maximum guage wire the terminal can handle is 14 ga but we have used up to 12 ga solid core for several applications with no issues.
2-Million Cycles
ProXR series controllers are designed for long life, you should expect to get years of service from your controller and literally 2-million cycles from the relays on board. With a 5-year warranty and a money back guarantee you have nothing to loose! Place your order now, while everything is in front of you.
This Board is RoHS Compliant

This board is led free and RoHS Compliant. If your requirements are for RoHS compliant parts this board is manufactured with RoHS compliant led free parts and solder.
Break-A-Way Tabs for a Smaller Design
The ProXR Lite relays have a great feature where space is a premium - Break-A-Way Tabs. The Break-A-Way Tabs allow most boards to fit in an optional undrilled plastic enclosure. Snap off the Break-A-Way Tabs and you have a controller with a smaller profile when you need to fit in a tight space.
30-Day Warranty/Money Back Guarantee
ProXR Lite series controllers are guaranteed against manufacturing and functionality defects for a full 30 days! Not to mention a 30-day money back guarantee! If for any reason you are not happy with a relay purchased from Relay Pros, simply return it within 30 days and we will give you your money back! Controllers that are damaged by our customers will not of course be warranted under any circumstances.
Shipping
The boards sold are brand new units shipped from our office conveniently located in Missouri. These boards are completely tested before they are released for shipping With so many boards on our site it is impossible to stock boards, please allow two to three days production time for your order to ship. If you have any questions please feel free to call our office at 800-960-4287 or e-mail us at sales@relaypros.com.
ProXR Lite Is Here!
A more streamlined manufacturing process brings a more durable, reliable and better relay board to the market. Here's a lists of great features:
User Friendly Board Design
Surface mount allows for a smaller more reliable board
Break-A-Way Tabs lets you decide the board's size
Screw terminal or direct relay connections makes connecting to the board easy
ProXR Lite Features
Works with the full ProXR Enhanced Command Set
8-Channel 8/10-Bit Analog to Digital Converter
Highly reliable relay with industry leading command set
ProXR Lite Limitations
This controller cannot be expanded
Easy Software Development
Most of our customers write their own program for controlling these devices and use almost any language to do this. This boards supports the Serial Port Profile, meaning they will mount to the computer as a virtual com port making it very easy to send commands to the device. This board will support almost any programming language you are comfortable with.
Base Station Software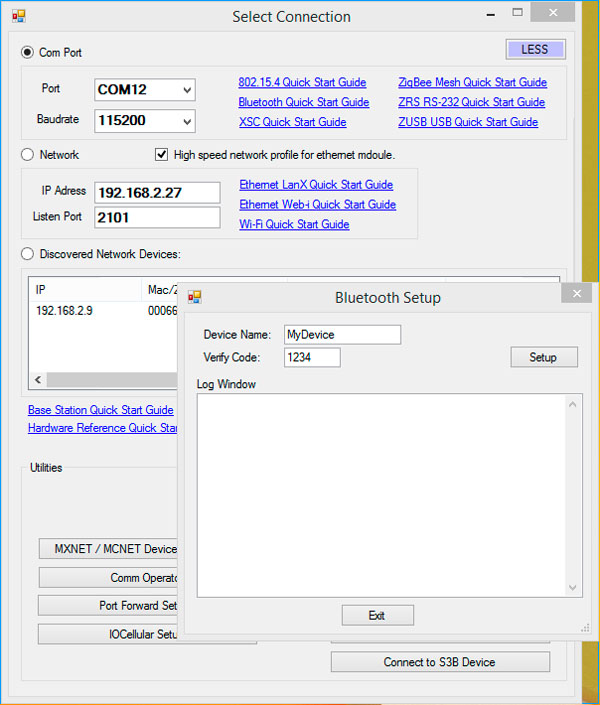 Base Station software is required to configure the Bluetooth communications module and is available as a free download. Base Station will recognize the module and allow you to select a network and set the password for that network.
Bluetooth Configuration
Configuration is easy with the optional Bluetooth ZigMo Modem. Simply connect it to the USB port of your computer with the supplied cable. The Bluetooth ZigMo is available as an option when you purchase your Bluetooth controller. The ZBT module will pull off the board and can be installed in the ZigMo for configuration. You can then configure the baud rate and password settings if you require a secure wireless control. After configuration the ZBT module can be re-installed in your board and it's ready to pair with your device.
Components Needed
Here's what you will need to configure a Bluetooth Module:
Bluetooth Configuration Kit (shown here)
USB Cable (included with ZigMo)
USB Driver
Base Station Software (free download)
---
Bluetooth Setup Video
---
---
Data Sheets & Quick Start Guides
---
Bluetooth Quick Start Guide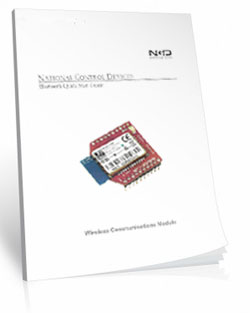 Click to Download
Base Station Quick Start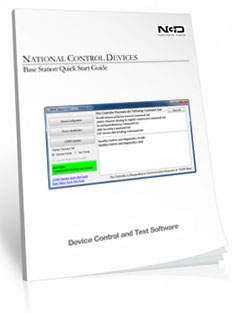 Click to Download
Software Options
Not a programmer and think these boards look great, not to worry we have software to help get you connected and even control the relays with a button on your desktop or by a time schedule!
Base Station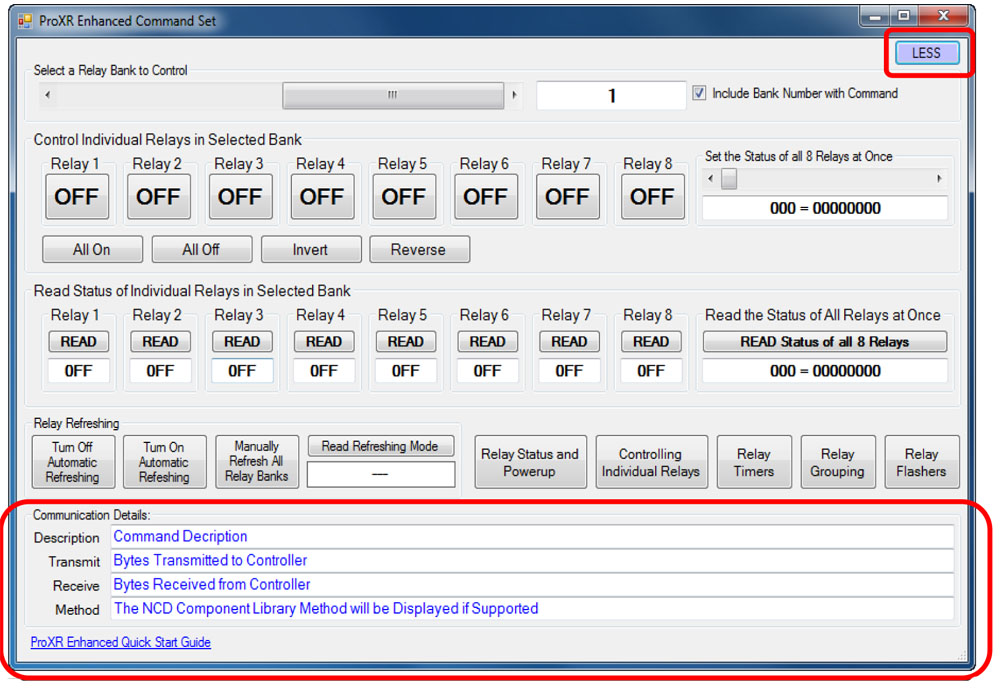 Free Software for Board Connection
Base Station Software is our reference tool for designing and testing all currently manufactured NCD Devices. Base Station will assist you in learning how any NCD device functions and will provide valuable diagnostic tools to help determine if your controller is functioning as designed. Base Station software exercises every supported feature of every supported device. It is the ultimate reference tool for learning, diagnosing, and testing NCD devices.
Board Identification
A window will open labeled "Device Identification Data". This window contains important "Read-Only" information about your device. Note the "Documentation Related to this Controller" field. This is a compilation of all articles relevant to your device. Click on an item in the list to view. You will need an Internet connection to access this information.
Board Command Sets
Base Station software asks the controller which command sets are supported. The supported command sets are listed when you run the Base Station software application. Some controllers may show more command sets while other controllers may show fewer command sets. The Base Station program will decide which command sets apply to your particular controller. This allows our software to scale with the product line.
Visit our Base Station Page
---
N-Button Software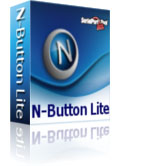 Point-And-Click Software
N-Button is software that allows you to configure buttons to control relays and read the status of those relays without programming using point-and-click action. You can also create meters for reading variable input sensors connected to the board in real time!
USB and Network Compatible
N-Button Lite supports Serial Port/ USB and Network connection between the PC and the relay board. Add any type of included N-Button Lite widgets with N-Button Lite Manager. It's also very easy to modify the widget's properties to get the button and configuration you are looking for using the full command set!
Lite vs. Pro
N-Button Lite has all the buttons and widgets of the full version but is limited to 16 widgets. Created for users with smaller needs to save money, N-Button Lite is a powerful tool for controlling relays or reading A/D inputs with up to 16 widgets. If you want to add more than 16 widgets, a Pro version is available and supports up to 255 widgets.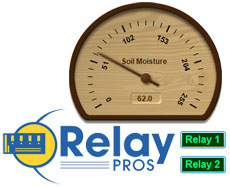 Create Desktop Meters
Desktop Meters can be created for real time level readings of any variable input sensor. "It's like having a meter right on your desk for constant monitoring". Meters can be created for temperature sensors, moisture sensors, light meters and others. Read the sensor and create relay buttons that will allow at-a-glance determination of the relay status. Best of all the increments on the meter can be fully customized to fit your needs. Choose an Analog to Digital controller (look for AD in the part number) purchase a copy of N-Button or N-Button Lite and you can read the A/D levels right on your desktop! If you have an application where you need to track sensor levels you will have a live real time meter right on your desktop!
Visit our N-Button Page
---
Relay Timer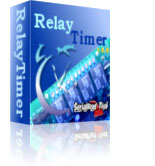 Time Schedule Control
Relay Timer Software allows you control each relay independently from a time schedule you create! The software can be installed on a server or PC and uses the computers time for an accurate relay control.
Control relay in recurrent time sequence
Thanks to protocol of ProXR & ProXR Lite boards it is possible to update 8 relays at one time. If speed is a requirement it only take about 30 ms to update 8 relays. In multiple relay applications Relay Timer calculates all relays' status together, even though each of them work separately.
Take Manual Control
You can take manual control of any relay at any time to interrupt the schedule and control a relay. Automatically switch back to Auto Mode and resume the schedule manually or set a fixed time to return to the schedule.
Quick Timer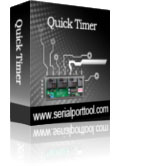 Time Sequence Control
Quicktimer Software supports turning on/off each relay automatically during the predetermined duration. First set the duration that you want the sequence to be active. Time periods can then be set where the relay is energized within the set duration.
Control Relays by Time Duration
Quick Timer is a software program specifically developed for the relay boards on our site. The software will allow you to control the duration the relays will be energized. This software is not designed to control relay at a specific time of day but rather a time duration. The time sequence is manually started and can run through a set sequence and stop of be set to loop until manually stopped.
Control Within a Predetermined Duration
Quick Timer Software supports controlling each relay automatically during the predetermined duration. A duration can be set first then each relay on the board can then be controlled with their own time sequence within the set time duration.
---
Component Library
Visual Studio Samples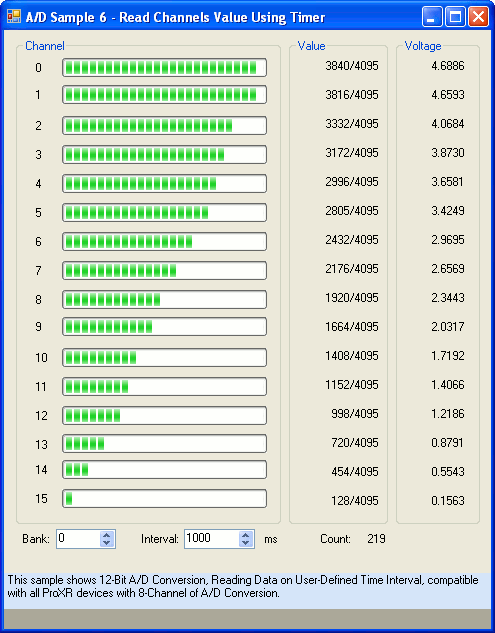 The NCD Component Library is a plug-in for the Visual Studio 2005/2008 that greatly simplifies the communications to the NCD product line. The samples can be run in Visual Studio and fully customizable to your needs. Over 40 fully functional fully working samples are included in this free download.
Visit our
Component Library Page
to view all the samples available.
Data Sheets & Quick Start Guides
Below are the Data Sheets Quick Start Guides for this board. These are the guides that will help you communicate and configure this board.