Bluetooth Relay Board 8-Channel 3-Amp DPDT ProXR
ZADR83DPDTPROXR_ZBT
$280.00
---
Bluetooth Relay Board
The ZADR83DPDTProXR_ZBT Bluetooth Relay Board is equipped with a bluetooth interface that will allow you to pair the board with your bluetooth device and control the relays. Pair the board with your Android phone, tablet or computer to send commands over a wireless Bluetooth connection directly to the board.
ZADR83DPDTProXR_ZBT The Ideal Choice
The ZADR83DPDTProXR_ZBT Bluetooth Relay Board is a great choice if you are looking for a direct wireless connection from your device to the board and are within a 200' to 300' range.
Bluetooth Relay Board - ProXR
This is a ProXR board meaning that it has the industry leading command set and the board can be expanded to include up to 256 relays. Adding relays is as easy as adding expansion boards as your needs arise.
Bluetooth Relay Board 8-Channel 3-Amp DPDT ProXR
ZADR83DPDTPROXR_ZBT
$280.00
Software Options
Not a programmer and think these boards look great, not to worry we have software to help get you connected and even control the relays with a button on your desktop or by a time schedule!
Base Station Software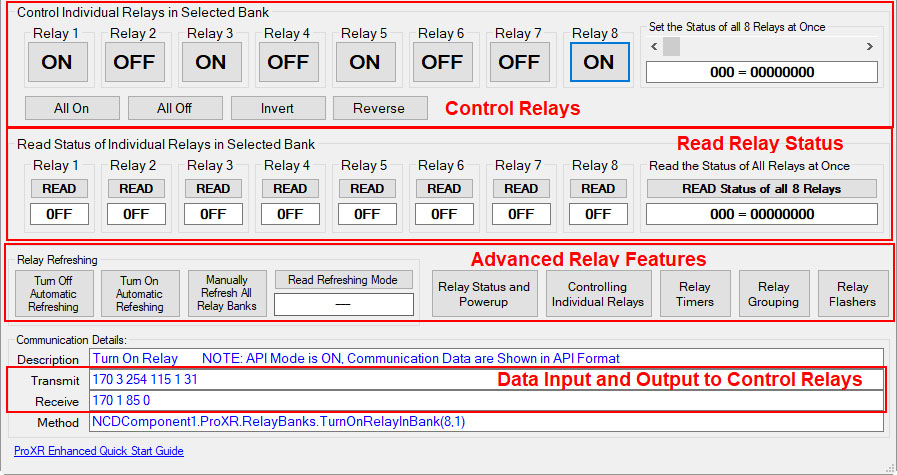 Base Station Software is our reference tool for designing and testing all currently manufactured NCD Devices. Base Station will assist you in learning how any NCD device functions and will provide valuable diagnostic tools to help determine if your controller is functioning as designed. Base Station software exercises every supported feature of every supported device. Base Station Software was designed to help you learn the ProXR command set. Explore ProXR features using our Graphical User Interface. Watch data bytes flow to and from the board, so you easily understand the command execution process. There is no faster or easier way to learn how to automate than Base Station, it is designed to work with our complete array of communication modules, including Wireless, Ethernet, USB, RS-232, and more. You only need a Windows 8 or 10 Computer to Run Base Station, no other relay control board even comes close to offering this type of software!
Board Identification
A window will open labeled "Device Identification Data". This window contains important "Read-Only" information about your device. Note the "Documentation Related to this Controller" field. This is a compilation of all articles relevant to your device. Click on an item in the list to view. You will need an Internet connection to access this information.
Board Command Sets
Base Station software asks the controller which command sets are supported. The supported command sets are listed when you run the Base Station software application. Some controllers may show more command sets while other controllers may show fewer command sets. The Base Station program will decide which command sets apply to your particular controller. This allows our software to scale with the product line.
Visit our Base Station Page
---
N-Button Software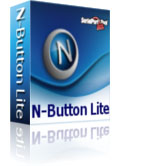 Point-And-Click Software
N-Button is software that allows you to configure buttons to control relays and read the status of those relays without programming using point-and-click action. You can also create meters for reading variable input sensors connected to the board in real time!
USB and Network Compatible
N-Button Lite supports Serial Port/ USB and Network connection between the PC and the relay board. Add any type of included N-Button Lite widgets with N-Button Lite Manager. It's also very easy to modify the widget's properties to get the button and configuration you are looking for using the full command set!
Lite vs. Pro
N-Button Lite has all the buttons and widgets of the full version but is limited to 16 widgets. Created for users with smaller needs to save money, N-Button Lite is a powerful tool for controlling relays or reading A/D inputs with up to 16 widgets. If you want to add more than 16 widgets, a Pro version is available and supports up to 255 widgets.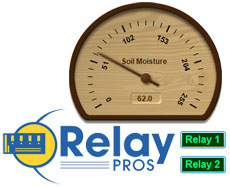 Create Desktop Meters
Desktop Meters can be created for real time level readings of any variable input sensor. "It's like having a meter right on your desk for constant monitoring". Meters can be created for temperature sensors, moisture sensors, light meters and others. Read the sensor and create relay buttons that will allow at-a-glance determination of the relay status. Best of all the increments on the meter can be fully customized to fit your needs. Choose an Analog to Digital controller (look for AD in the part number) purchase a copy of N-Button or N-Button Lite and you can read the A/D levels right on your desktop! If you have an application where you need to track sensor levels you will have a live real time meter right on your desktop!
Visit our N-Button Page
---
Relay Timer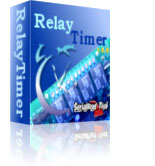 Time Schedule Control
Relay Timer Software allows you control each relay independently from a time schedule you create! The software can be installed on a server or PC and uses the computers time for an accurate relay control.
Control relay in recurrent time sequence
Thanks to protocol of ProXR & ProXR Lite boards it is possible to update 8 relays at one time. If speed is a requirement it only take about 30 ms to update 8 relays. In multiple relay applications Relay Timer calculates all relays' status together, even though each of them work separately.
Take Manual Control
You can take manual control of any relay at any time to interrupt the schedule and control a relay. Automatically switch back to Auto Mode and resume the schedule manually or set a fixed time to return to the schedule.
Quick Timer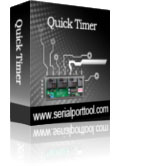 Time Sequence Control
Quicktimer Software supports turning on/off each relay automatically during the predetermined duration. First set the duration that you want the sequence to be active. Time periods can then be set where the relay is energized within the set duration.
Control Relays by Time Duration
Quick Timer is a software program specifically developed for the relay boards on our site. The software will allow you to control the duration the relays will be energized. This software is not designed to control relay at a specific time of day but rather a time duration. The time sequence is manually started and can run through a set sequence and stop of be set to loop until manually stopped.
Control Within a Predetermined Duration
Quick Timer Software supports controlling each relay automatically during the predetermined duration. A duration can be set first then each relay on the board can then be controlled with their own time sequence within the set time duration.
---
Component Library
Visual Studio Samples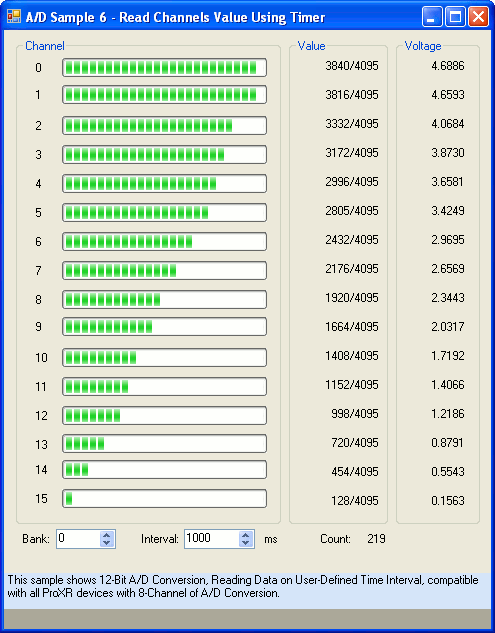 The NCD Component Library is a plug-in for the Visual Studio 2005/2008 that greatly simplifies the communications to the NCD product line. The samples can be run in Visual Studio and fully customizable to your needs. Over 40 fully functional fully working samples are included in this free download.
Visit our
Component Library Page
to view all the samples available.
Data Sheets & Quick Start Guides
Below are the Data Sheets Quick Start Guides for this board. These are the guides that will help you communicate and configure this board.