USB Push Notification 2-Input USB with Interface
MIRCC2_USB
$114.00
---
USB Push Notification
The MIRCC2_USB is a USB Push Notification board that allows you to connect a contact closure to the board and send an email or text message when the circuit is closed. The board will communicate the contact closure information to your computer through a USB connection. N-Button Software will then send a text or email from the computer to your selected recipients.


MIRCC2_USB The Ideal Choice
Ideal for applications when you must know a contact closure has been activated. Connect the contact closure (no voltage) directly to the board or add this board to any of our relay boards and use a relay on the board as the contact closure input so you're notified when your relays trigger!
USB Push Notification 2-Input USB with Interface
MIRCC2_USB
$114.00
USB Push Notification at a Glance
Push Notification Inputs
- 2 Contact Closure (No Voltage) Inputs
- 12 Guage Solid Core Wire Capacity
- Send SMS and/or Email Message
- Compatible with any Contact Closure Sensor
- Temperature Rating -40° C to 85° C
Onboard USB Interface Module
- Plugs Directly into USB Port
- Mounts as a Virtual COM Port
N-Button Software
- Point & Click Interface
- Use to Configure & Send Messages
Step-By-Step Setup Instructions
Detailed step-by-step information for connecting the board to your computer, setting up N-Button and configuring the text/email can be found by clicking the link below.
USB Push Notification Setup

USB Push Notification
Mounts as a COM Port
The USB Push Notifiction board connects directly to the USB port of your computer and will mount as a COM port on your PC. Windows computers with access to the internet will automatically download the proper driver or it can be manually downloaded from ftdichip.com. Once powered up, the board can communicate to
N
-Button Software using the assigned COM Port.
N
-Button will ask for your COM Port in Device Manager when adding the board.
ZUSB Modules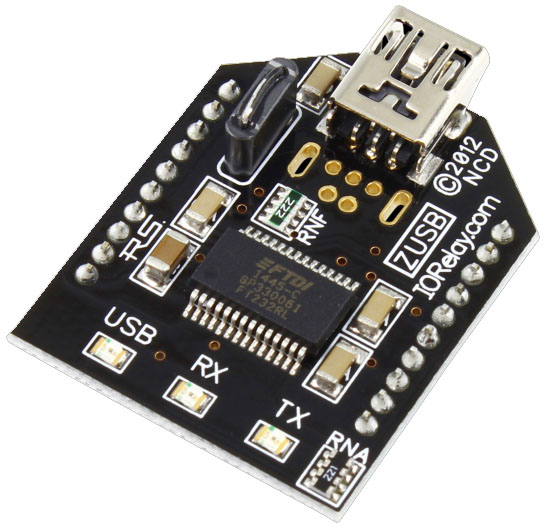 This board is equipped with a ZUSB Module. By selecting the USB interface you will be communicating through the USB port of your computer to the board. The board itself will require 12 volts of power and can be hard wired or you can purchase a "wall wart" type
Power Supply
at checkout.
USB Push Notification Video
---
Attention: No Voltage Input
Please Note: Users must NEVER apply any voltage to an input on the Push Notification Board, these inputs are for
Dry Contact (No Voltage) Connections ONLY.
The Push Notification Board
Push Notification
In this tab we'll look at the Push Notification board itself. The has board has dry contact (no voltage) input(s) and an interface that will communicate to your computer. When a dry contact input is closed using N-Button or a software program that you develop you can read these inputs and send an email or text message with the connected computer. Please Note: no voltage can be put into the input of this board, it will damage the board.
Dry Contact Inputs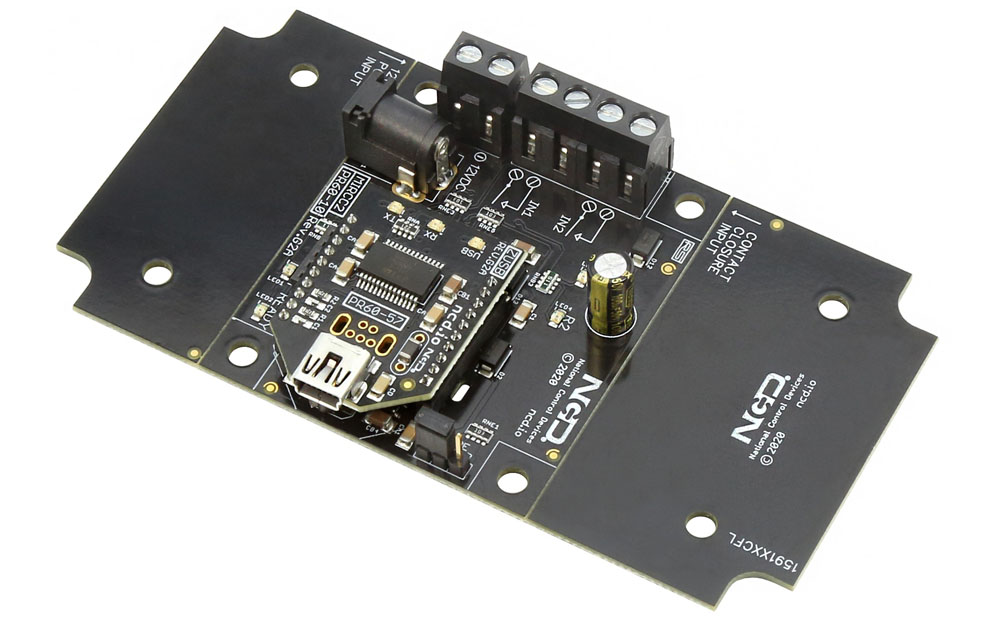 The Inputs on the MIRCC2_USB board are compatible with any type of dry-contact (no voltage) input. Use any contact closure input such as a button, sensor or another relay and receive an instant SMS and email messages right to your smart phone, tablet, or computer! Combine with other boards on this site for a total switching/notification package.
12 VDC Power Required
The board itself requires 12 VDC power to operate the firmware on the board. The board has an operating range of 9 VDC to 14 VDC, anything over or under this range and the board becomes unreliable. We offer the PWR-12 wall wart type power supply that can connect to a barrel connector on the board. For a spec sheet on the PWR-12 click on the gray Data Sheets tab above.
Dry Contact Inputs
The board has a screw terminal input bar to connect the sendor, button or switch. The terminal can accommodate a 12 Guage Solid Core Wire and really any sensor can be connected as long as it has NO VOLTAGE.
Break-A-Way Tabs for a Smaller Design
The Push Notification Boards have a great feature where space is a premium - Break-A-Way Tabs. The Break-A-Way Tabs allow most boards to fit in an optional undrilled plastic enclosure. Snap off the Break-A-Way Tabs and you have a controller with a smaller profile when you need to fit in a tight space.
This Board is RoHS Compliant

This board is led free and RoHS Compliant. If your requirements are for RoHS compliant parts this board is manufactured with RoHS compliant led free parts and solder.
Direct Query Command Set
If writing your own program, the only command required for this board is to query the status of the inputs. This may also need to be done after a server reboot to get the current status of inputs on the controller. This will be done via a TCP socket connection to the controller's IP address on the port number. While these are technically A/D inputs we are simply using them as contact closure inputs. All inputs are pulled low on the controller so if the input is not tripped its value will be 0. When the input is tripped it will be pulled high and its status will be 255. It is recommended that you assume any input above 200 is tripped with a contact.
Direct Query Command Set
This command will read the 8-Bit Analog Input value of the specified input and return a value from 0-255.
Decimal Values:
254 (Command) 150-157 (Parameter - Channel 1-8)
Hex Values:
0xFE (Command) 0x96 - 0x9D (Parameter - Channel 1-8)
Receive Byte: Decimal:
0-255, Hex: 0x00-0xFF
5-Year Warranty/Money Back Guarantee
Push Notification Boards are guaranteed against manufacturing and functionality defects for a full 5 years! Not to mention a 30-day money back guarantee! If for any reason you are not happy with a board purchased from Relay Pros, simply return it within 30 days and we will give you your money back! Boards that are damaged by our customers will not of course be warranted under any circumstances.
Shipping
The boards sold are brand new units shipped from our office conveniently located in Missouri. These boards are completely tested before they are released for shipping With so many boards on our site it is impossible to stock boards, please allow two to three days production time for your order to ship. If you have any questions please feel free to call our office at 800-960-4287 or e-mail us at sales@relaypros.com.
N-Button Software
Please Note: N-Button Software is a PC Based software that needs to be always running on a computer connected to the board to read the input. The software will need access to the internet for the messages to be sent.
Configuring and Sending Messages
N-Button Software
N
-Button Pro/Lite paired with a Push Notification board makes a complete package to send a text and/or email messages.
N
-Button is a point-and-click software that will allow you to configure messages that are sent and who will receive them.
N
-Button is a PC based software that will text and/or email from a computer. The Push Notification board can be connected to the computer either from a USB, Ethernet or the Wi-Fi connection, which ever you choose to use.
Send SMS, Email or Both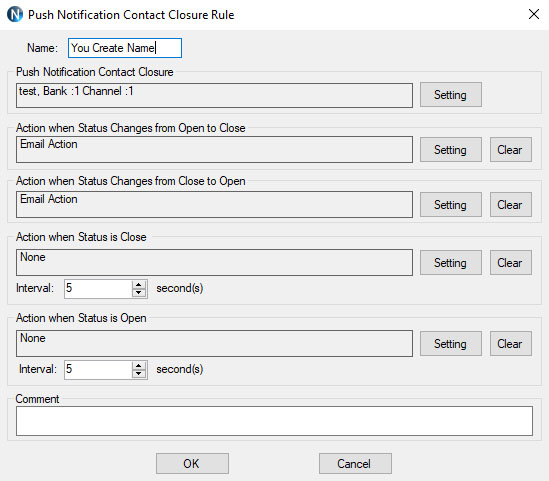 You can send a SMS and/or email message to selected recipients with an alert that the dry contact circuit has been closed. A Subject and message can be sent stating exactly what circuit has been closed. You can even set the message so it continues to be sent at a predirtumined interval until the dry contact circuit opens again!
Monitor Inputs from Desktop
N
-Button also allows you to put a button on the desktop of your PC that changes color with the status of the input! You can assign a color for either state the contact closure. This can also be done in addition or instead of sending a text message. If you don't want to send out a message but want a visual status of the contact closure simply skip the text/email portion of the setup and you will have a visual reference of the output!
Control Relays with Inputs
N
-Button Lite/Pro software Automation feature allows you to control relays with this board!
N
-Button has the ability to set up an Automation rule to match input channels of the push notification board with relay channels on a seperate relay board. The relay status will be changed when the input channel status changes, when the dry contact circuit is closed the relay on another board will turn on and when the circuit opens the relay will turn off.
Gmail Setup
In your Google Account Settings, you have to go to Security, then turn on 2-Step Verification. Once 2-Step Verification is turned on, you must click on "App Passwords". On the App Ppasswords page, you have to select "Mail on my Windows Computer" for the app, then select "Windows Computer" or whatever device you have. Finally, click the "Generate" button, which will generate a password that you will use in the N-Button software. All of the other inputs in the N-Button Automation/Action settings page will be the typical settings. Only the password is different. This has allowed users to send emails and text messages from the N-Button software using a Gmail account.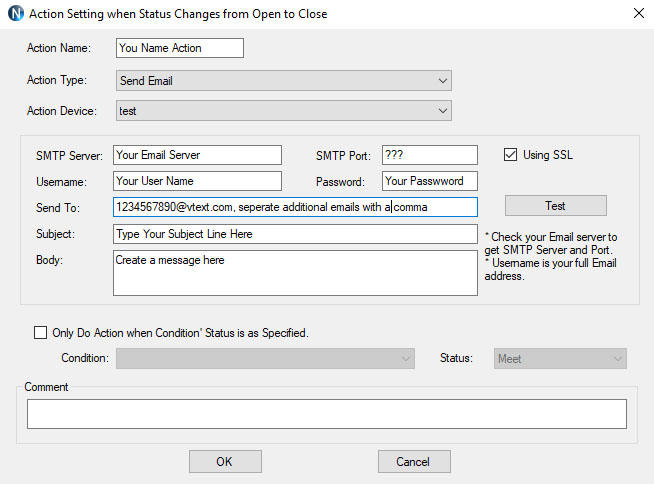 Components Needed
Here's what you will need to set up a contact closure notification
Push Notification Board
N-Button Software
Computer (not provided by Relay Pros)
Contact Closure Sensor (not provided by Relay Pros)
Need More Information?
Detailed step-by-step information for each interface below.
USB Push Notification Setup
Ethernet Push Notification Setup
Wi-Fi Push Notification Setup
Push Notification Videos
---
Power Supply Available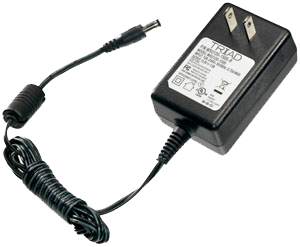 The PWR12 is regulated power supply providing clean power necessary for the performance of these boards. The PWR12 US power supply is a 120VAC to 12VDC 1.25A 60Hz regulated power supply and it plugs into the barrel connector on the board. The output connector is a 2.1mm I.D. x 5.5mm O.D. x 9.5mm R/A barrel connector.
Click Here for More
Enclosure Available
The CFL Enclosure is an undrilled, non-waterproof enclosure and is available at checkout for this controller.
CFL Spec Sheet
CAD Drawing:
CFL CAD Drawing
3D Model:
CFL_3D
N-Button Lite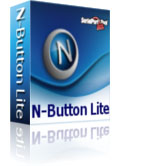 N-Button Lite is software will read the two inputs on the board and send out the text and/or email message. You can configure seperate text and/or email for each input and send them to multiple recipients! For detailed instructions on setting up the board and messages
Click Here
!
USB Push Notification Quick Start Guides
Below are the Push Notifications Quick Start Guides, these are the guides that will help you setup the board on your computer and configure the software. The USB Push Quick Start Guide is a Step-By-Step guide to establishing communication with the USB board and setting up N-Button Software.