Clock Relay at a Glance...
8 Relay Installed on a Circuit Board
3rd Generation Ethernet - New for 2020
- Plugs Directly into Router
- Supports DHCP & Fixed IP Address
- Web Interface for Configuration Settings
- Programmable TCP Port and IP Address
Integrated Real Time Clock
- Board Knows Time & Day
- Control Relays Based on Time Schedule
- Schedule up to 1000 Events!
Time Schedule You Create
- Upload Time Schedule to Board
- Board Operates Without a Computer
- Time Schedule Controls Relays
- USB & Network Interfaces Available
Selecting the Proper Amperage
For more information on selecting a board with the correct relay amperage for your application see Choosing a Proper Amperage.
Ethernet Clock Relay
The Ethernet Clock Relay has an integrated Real Time Clock to control relays based on a time schedule (the board knows what day & time it is). Connect these controllers to a router where they are assigned an IP address. Using Base Station Software (a free download) you can create your time schedule and upload it to the board over the network connection. Once uploaded, the computer is no longer needs, and the relays will activate according to your schedule that can be as simple or as complex as your application requires.
Clock Relay Events
Events are scheduled times when a relay or group of relays are turned on or off. They are defined by the user first by time: Year, Month, Day of Month, Day of week, Hour, Minute, and Second. You have the ability of switching relays on or off at very specific times. You can add up to 1000 Events to the list.
Selecting The Ethernet Interface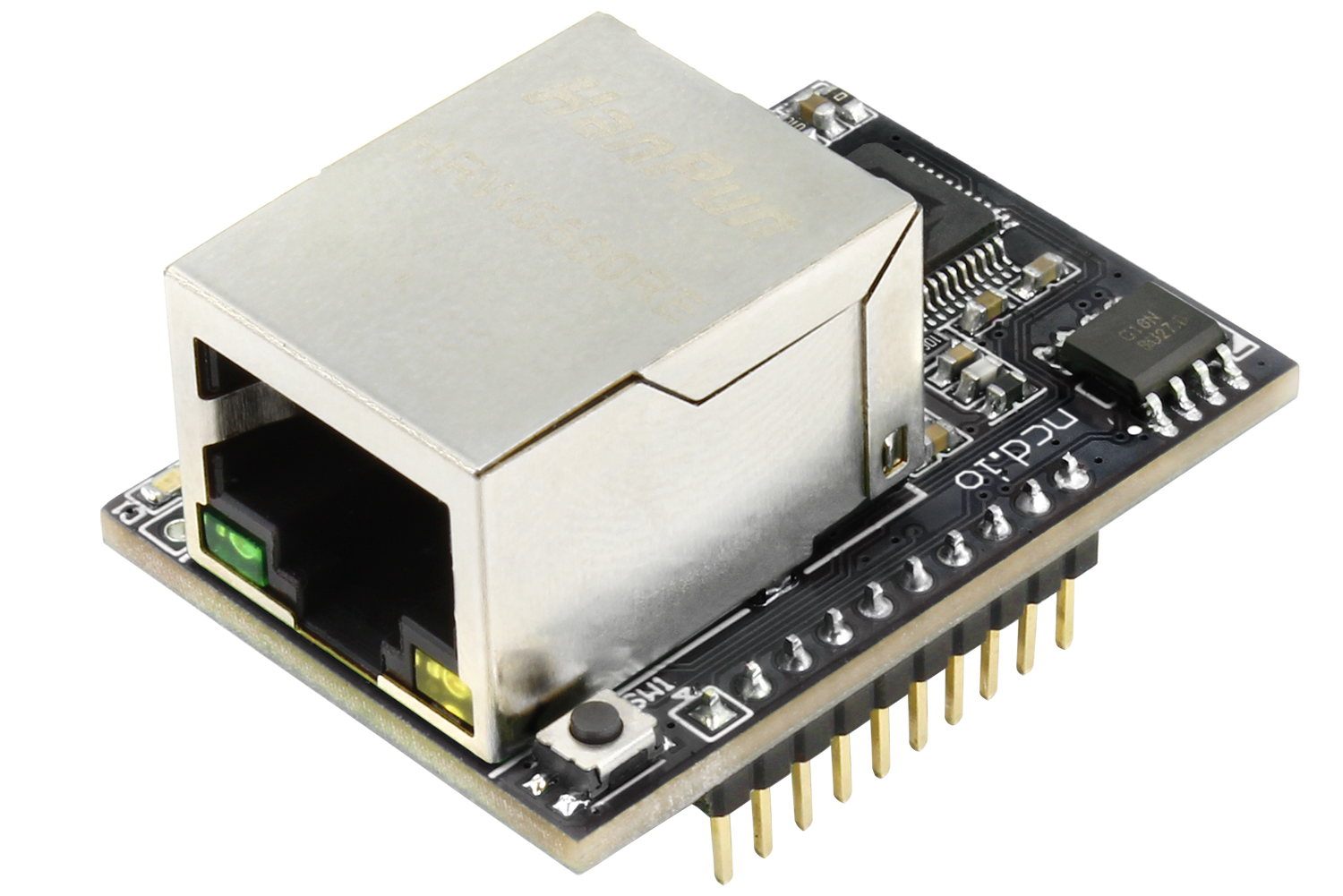 By selecting the Ethernet interface you will be sending commands through your local area network or internet to the board. Boards on this page are equipped with the new NCD5500 communications module that adds Ethernet communications to the board. The Ethernet to Serial Communications Module converts TCP packets to Serial data and vise versa. This device can be configured to automatically close the socket after a programmable timeout or to leave the socket open. A blue LED light indicates an open socket connection. Program the Baud Rate of this Device from 9600 to 115.2K Baud and communicate to this device over the default TCP port 2101. This device also supports Static IP Addresses, DHCP, and has the ability to recover back to factory default settings with a simple press of a button!
Selecting an Ethernet Relay Board
Below you will find the 8-channel Clock Relays that are available. The difference being the amperage of the relays installed and the type of relay. Choose the controller that fits the amperage you are switching. You will find SPDT relays in the 5, 10 and 20 amp versions and an SPST version in 30 amp. A solid state version is also available. For more information on selecting the correct relay for your application see
Choosing a Proper Amperage
.