WiFi Relay at a Glance...
1 Relay Installed on a Circuit Board
&nbsp - Highly Reliable Under Almost Any Conditions
Embedded WiFi over 802.11b/g
- Supports DHCP and Static IP Address
- Supports Direct TCP/IP Communications
- Password Protection
WiFi Configuration Kit Available
- Choose Network & Set Password
ProXR Lite Versions
- Industry Leading Command Set
- Not Expandable
Selecting the Proper Amperage
For more information on selecting a board with the correct relay amperage for your application see Choosing a Proper Amperage.
Selecting The WiFi Relay Interface
WiFi Relay will allow you to control relays over a WiFi network or internet. Boards on this page are equipped with a WiFi communications module and have one relay installed on the board. The WiFi interface will allow you to associate the board with your existing Wi-Fi network and send the commands over a Wi-Fi network. The Wi-Fi interface supports DHCP, Static IP, Direct TCP/IP Communications and with a properly configured network internet based communications.
Free Android and iOS Apps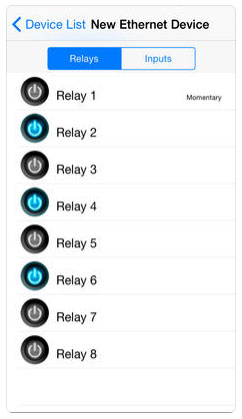 For Android and iOS users a free app is available for your phone or tablet and can be downloaded from Google Play or iTunes. Control up to 32 relays and set each with an individual name. All you have to do is download the app and enter the IP address of the board. These free apps were developed to control these boards and offer a reliable alternative to computer control.
Selecting a WiFi Relay Series
The 1-Channel boards are available in a non-expandable ProXR Lite version. ProXR Lite boards have the full ProXR command set, the industry leading command set for controlling relays. When you find your controller click on the Full Description link to view full specs, watch setup videos, download software and purchase.
Selecting a WiFi Relay
What amperage relay do you need?
Below you will find the 1-channel WiFi Relay control that are available. The difference being the amperage of the relays installed and the type of relay. Choose the controller that fits the amperage you are switching. You will find SPDT relays in the 5, 10 and 20 amp versions and an SPST version in 30 amp. For more information on selecting the correct relay for your application see
Choosing a Proper Amperage
.